Beyond Namaste: A passion for Hindi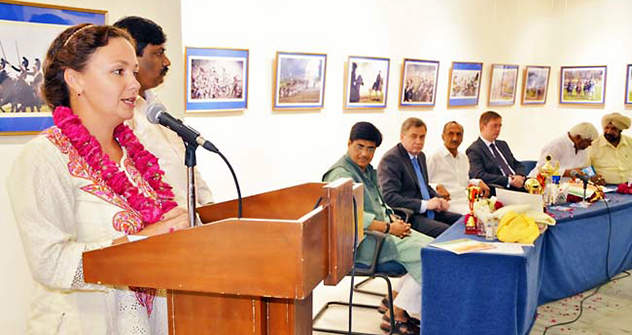 Yulia Aryaeva, a Russian diplomat in India, is an alumnus of the Moscow State Institute of International Relations (MGIMO) where she later taught Hindi. Source: Priyanka Gera
A Russian linguist awarded for her role in the promotion and development of Hindi, shares her vision and passion.
The world is drawn to Incredible India for its intriguing cultural diversity from spirituality to holistic health or from mythology to Bollywood. Many realise that the key to truly appreciate and connect with the country is to know one of its most widely spoken languages, Hindi, which is spoken and understood in various dialects in many parts of India. Yet the country is a multilingual and English is a widely preferred medium. The significance of Hindi in such a diverse scenario can be aptly explained by Yulia Aryaeva, who was awarded the "Hindi Ratan" by the India-Russia Friendship Society for her commitment to promotion and development of the language.
Aryaeva, a Russian diplomat in India, is an alumnus of the Moscow State Institute of International Relations (MGIMO) where she later taught Hindi. "I was introduced to Hindi when I was a child and was living in Delhi with my parents," Aryaeva says as she describes her journey from developing an interest in the language to receiving the award earlier this year. "Some of my students are now working in the Embassy of Russia in India as diplomats. So, it was a genuine pleasure and a matter of pride for me to receive this prestigious award."
She cherishes her experience as a teacher of Hindi, "induction meetings with first year students used to be one of the most pleasurable times. Most of the students didn't know much about India or the Hindi language. I used to tell them how lucky they were to have an opportunity to study this beautiful country and this nice language," Aryaeva recalls.
The Russian diplomat and goes on to explain the role a language plays in fostering cooperation between two nations. "Language serves as a unique tool to understand the soul of another nation and excellent command of a foreign language makes one a real envoy of one's own country. It is heartening to see an obvious revival of interest for national cultures among the young people of Russia and India. Therefore, they should be given a chance not only to meet but to also get a more profound insight into each other's culture through international student exchange programmes," she says.
Aryaeva also cites the example of Voice of Russia Broadcasting Company, which claims about 150 radio listener clubs across India for its transmissions in Hindi, Urdu and Bengali and also presents capsule programmes through one of Delhi's popular Hindi radio stations.
As the Russian diplomat lists the factors which promote the interest in Hindi and Indian culture in general, such as spiritual gurus and mythological sagas, she stresses on the role that Hindi films play, "They are certainly popular with NRIs. Besides, several generations of fans in Russia have grown up with Bollywood. This industry has created a space for itself in the consciousness of western audience and producers. Such international success has made people all over the world, and of course in Russia, interested in Hindi language. Thus Bollywood has become a sort of cultural ambassador of India. It is worth mentioning that watching Hindi films has always been an important part of the teaching process at MGIMO."
At a time when English seems to be overshadowing Hindi and other regional languages, especially in urban areas, Aryaeva maintains that there are brighter aspects "As far as I know among the large section of over 27 million officially estimated Indian diaspora settled abroad, Hindi serves as an emotional link to their motherland." She also sees a promising future. "India is striving to get a permanent seat in the United Nations Security Council. India is supported by the majority of the member countries in the UN General Assembly. If Hindi becomes one of the official languages of the United Nations, it would definitely add to India's image and facilitate Hindi to play a greater role inside the country."As to the challenges back home she believes that, "It is a collective responsibility of all Indian citizens to make concrete efforts to popularise Hindi in India."
To open more channels for building mutual understanding between the two countries Aryaeva strongly recommends a revival of literary translations, "There are a plenty of lovers of Russian literature in India, and Indian literature has had a great impact on Russian readers. Translations from Russian to Hindi and vice-versa were blossoming till 1990s. This process was almost stopped after the collapse of USSR. I suppose one of the most prominent translators of that time is Padamshree awardee Dr Madan Lal Madhu, the author of more than hundred literary works. Nowadays there is a great demand of such works in both countries that is why we should revive this noble tradition."
All rights reserved by Rossiyskaya Gazeta.