Fingerprints to help Russians access their cash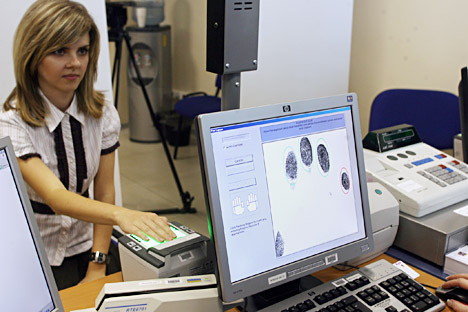 Russia seeks to introduce biometric identification in banks to allow holders of cards to pay for products and services by having their fingerprints scanned. Source: Kommersant
A VTB bank subsidiary plans to install scanners in its ATMs in order to test a biometric customer ID system. Experts applaud this initiative but warn that the cost of the terminals may erode the profits from the launch of the new ID solution.
Leto-bank, a subsidiary of VTB, plans to acquire ATMs equipped with fingerprint scanners. These new biometric ATMs will dispense cash as soon as they identify their customers' fingerprints by scanner, enabling their users to withdraw cash without a card. The new ID solution will first be tested at Leto-bank's customer service centers, according to a member of the bank's management board.
Biometric identification has been broadly introduced in Swiss, German, French, Turkish and Nigerian banks. In India, they identify customers using their fingerprints and, in Brazil, they use vein patterns on the wrists. Polish BPS SA became the first European bank to introduce finger vein authentication. This solution became popular after the massive earthquakes in Japan in 2011, when many cardholders had lost their documents and cards. In Russia, biometric identification solutions are being tested by Sberbank. Holders of Sberbank cards are currently able to pay for products and services by having their fingerprints scanned.
"We will invite our customers to have their fingerprints taken when they apply for our services," said board member Pavel Gurin. "Identification by fingerprint will be one of the ID options, as long as the customer agrees to having their fingerprints taken. This enables us not only to cut our risks but also safeguard our customers in the future.
"The new ID option will also allow new solutions to be applied to self-service terminals. If a customer comes to our office with no passport and we can identify him using biometric data, why not? That's why we're working on this possibility. We must think about all aspects, including how much more the customers will have to pay for this, because they will have to incur some of the costs," Gurin said.
Maksim Emm, executive director at Peak Systems, argues that the advantages of the new ID system are not clear.
"The thing is that they are slightly more expensive than regular ATMs, and, besides, only this bank's customers are entitled to use them. Leto-bank's customers will hardly be running around looking for that special ATM just to use their fingers.
"It would be great if all banks agreed to introduce this ID option. As of today, it is more important to test whether people are ready to use this service and whether they trust it; whether the costs will be offset by risk mitigation and whether there will be less fraud and thefts," Emm said.
First published in Russian in Komemrsant Daily.
All rights reserved by Rossiyskaya Gazeta.