WTO accession poses some risks for Russia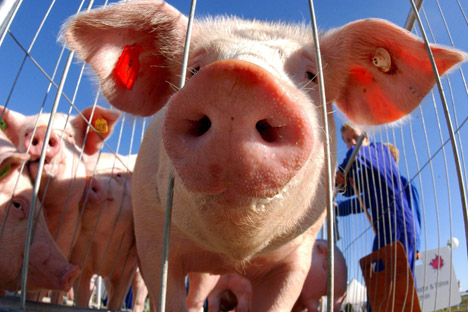 Russia's farmers are expected to get governmental protection from probable risks of Russia's accession to WTO. Source: ITAR-TASS
The accession terms will not be revised, but there will be additional support available for business, officials promise.
President Vladimir Putin has held an extended session of his Security Council to address Russia's WTO membership problems.
According to Putin, the country's accession to the Organization will encourage economic modernization, facilitate efforts to improve the business environment and secure Russia a more favorable position in the international division of labor. However, he warned that the country was unlikely to reap quick benefits.
"We observe higher risks related to the obligations we assumed: primarily, our commitments related to lowering import duties on some goods," said Putin. The Labor Ministry has been instructed to assess higher unemployment risks caused by the accession to the WTO.
Russia will not ask the WTO to revise the membership terms, several federal sources and presidential spokesman Dmitry Peskov confirmed.
"What the president meant is that, because markets have contracted (especially in the EU) large flows of commodities subject to serious import duty cuts (specifically, farm machines) can flood the Russian market," an official said. Putin also stated that other WTO members often fail to comply with their membership obligations; for instance, they maintain unwarranted discriminatory measures against some Russian commodities, said Peskov.
Russia is supposed to cut its average import duty to 6 percent from 9.5 percent, within three years of its accession.
The Economic Development Ministry estimates that budget shortfalls caused by lower duties will reach 188 billion rubles ($6 billion) in 2013 and 257 billion rubles ($8.2 billion) in 2014. Still, ministry officials hope that losses will be partially offset by increases in trade and the tax base. The industrial sector will benefit from lower import duties on equipment; the retail sector and chemical industry will also be among the winners, Renaissance Capital and UniCredit have said in reports.
The President made this statement for a good reason – the government is studying the possible consequences of the WTO accession, a member of the government's administrative office said.
"We have weekly meetings with representatives of Russian business; they tend to complain about the WTO, but you have to understand that there is nothing else they can say – our job is to identify where the situation really requires intervention," Vedomosti's source said.
There are no plans to have import duties revised, but there are other measures for supporting various sectors of the economy, the source added.
Economic Development Minister Andrei Belousov mentioned one of them in late November: The government is considering imposing an anti-dumping duty on imports of farm machines, starting in 2013. Nevertheless, it needs to wait for the Eurasian Economic Commission to complete its anti-dumping probe first. The Commission started the probe in July, on the basis of applications from Rostselmash and Krasnoyarsk Combine Harvester Plant.
Russia will not be able to have its duties revised within the next three years, and those revisions will be individual changes, according to the official at the Economic Development Ministry. Some of the duties will have to be adjusted regardless, since there were errors in the final documents and certain duty rates were set incorrectly.
"These include duties on imports of pigs, paper and cardboard," said an official at the Eurasian Economic Commission. No one knows yet how the rates will change.
As soon as it joined the WTO, Russia abolished the 80 percent loan-rate subsidy offered to agricultural producers buying domestic-made machinery. The state used to spend 8 billion rubles ($257 million) annually on cutting loan rates, says Rosagromash Director Yevgeny Korchevoi. This mechanism can be adjusted; for instance, Korchevoi suggests that the state may subsidize some of the personnel costs of the producers, rather than those of consumers.
First published in Russian in Vedomosti.ru
All rights reserved by Rossiyskaya Gazeta.