Magna to establish auto cluster in Kaliningrad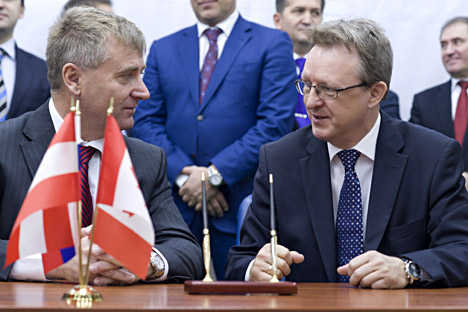 Pictured (L-R): President of Magna International Europe Gunther Apfalter and Avtodor CEO Alexander Sorokin signing the collaboration agreement between Magna and Avtodor. Source: ITAR-TASS.
The Canadian auto-parts manufacturer Magna and Kaliningrad-based Avtotor (Russia's leading manufacturer of foreign-brand cars) have signed an agreement to establish an auto cluster.
A total of 21 plants will be involved in the project of Canadian auto-parts manufacturer Magna and Kaliningrad-based Avtotor, which will reach production localization of 48 percent. The parties will invest 118 billion rubles ($3.8 billion) in the cluster.
"The auto cluster will comprise six auto plants of various manufacturers and 15 auto component facilities," Vladimir Scherbakov said, chairman of the board at Avtotor. He added that the components plants would both serve the auto cluster and Russian auto plants located elsewhere, as well as export their products.
The new auto cluster's capacity will develop in two stages. The first stage will begin in 2016, and it is expected to result in full-cycle manufacturing of 150,000 vehicles a year. The second stage will see an increase in annual output, up to 250,000 units by 2018, with localization reaching 48 percent.
The new auto cluster will host auto plants by Kia, Land Rover, Subaru, BMW, Hyundai and GM. Components manufacturers that will set up shop in Kaliningrad include Magna (plastic parts), Johnson Controls (assembled parts), Fagor (press production), Lear (seats) and Eberspacher (exhaust systems). According to Scherbakov, the joint project will create up to 20,000 jobs in the region. The total investment in new capacity will reach 118 billion rubles. "Financing will come from equity and loans from Russian and foreign banks," according to an announcement made at the agreement signing. Avtotor has committed to contributing 21 billion rubles.
As a resident of a special economic zone, Avtotor is still allowed to import auto components to Russia duty free; but this advantage is set to expire in 2016. The partnership with Magna, which has a "dormant" industrial assembly contract, will allow Avtotor to extend its exemptions to 2020. Avtotor CEO Alexander Sorokin told RBC Daily that his company was in talks with Russian government ministries over the possibility of extending customs exemptions for companies assembling their cars at Avtotor.
"All companies working with us accept equal conditions and assume equal obligations. If anyone breaches the terms of their industrial assembly agreement, the others will be hurt too, even though they may be in compliance with their obligations," Sorokin said. According to him, several options are under consideration, including one in which a company found in breach of the conditions may be stripped of its exemptions and forced to pay customs duties in full.
First published in Russian in RBC Daily.
All rights reserved by Rossiyskaya Gazeta.