Russian Kitchen: Marinated cherry tomatoes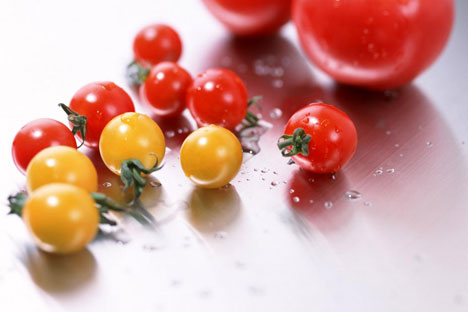 Russian Kitchen: Marinated cherry tomatoes. Source: Press Photo
Russia has an endless variety of pickles, which are completely different from achaar; the main difference being the marinade or the brine.
I love Indian food. Among my favourites is Indian style pickle or achaar. There is nothing better than to eat rice with daal and add spicy garlic pickle. There is endless variety of pickles in India – mango pickle, green chilli pickles, gooseberry pickle and Kerala prawn pickle among others.
Russia, on the other side, has an endless variety of a different kind of pickles – marinated ones. It is completely different from achaar; the main thing is the marinade or the brine, which serves as a preservative to the vegetables and makes them taste salty and tangy.
It is fascinating to see jars of various sizes of pickled tomatoes, cucumbers, mushrooms, cauliflower, beetroot, capsicum, cabbage and assorted vegetables. Everything looks like it was freshly picked, extremely vibrant in colour, very crisp and appetising. The most popular Russian pickle is, of course, pickled cucumber or gherkins. People say (and I confirm) that it is the best accompaniment to vodka. I think pickles were created for two reasons: to preserve scarce vegetables and to have a bite after a shot of vodka. The jokes aside, pickles are a great side option to Russian dishes which are very bland by themselves and go very well with tangy salty pickles.
In this article, I want to share with you the recipe of pickled cherry tomatoes Russian style. They can serve as excellent finger food at the parties, can accompany beer or whiskey or can be just eaten with your main course. The original recipe comes with regular sized tomatoes. But I find it very convenient to pickle cherry tomatoes, which are easier to eat and they look more appetizing. Should you decide to use regular sized tomatoes, cut them into halves.
Ingredients (6 – 450 ml jars):
Cherry Tomatoes – 1 kg
Onion – 1 pc
Green Chilli – 3 pc
Oil – 6 tbsp
Vinegar – 6 tbsp
Marinade:
Water – 1 l
Salt – 1.5 tbsp
Sugar – 3 tbsp
Whole Black Pepper – 20 pc
Cloves – 20 pc
Bay Leaves – 7 pc
(You can substitute with whole spice leaves or you can skip it)
Preparation:
Note:
When sterilizing the jars, remember that temperature of the liquid inside the jars should not be very different from outside water, so the glass won't crack.
1. Clean the jars and rinse with hot water.
2. Slice onion into circles, cut chilli and put on the bottom of the jars. Add 1 table spoon of oil in each jar. Prick each tomato with the fork and fill the jars.
3. Bring water to boil, add all the marinade ingredients and boil for 3-5 min. Add hot marinade into the jars and close the lid.
4. Sterilize the jars: put the jars in the big pot and add water up to ¾ of the jars, bring water to boil and continue boiling on the medium flame for 15 min. Take jars out of the water, let them cool and put it in the fridge. The pickle is ready after 2-3 days.
Priyatnogo appetita!
All rights reserved by Rossiyskaya Gazeta.