Minsk eyes India, China for stake sale in Belaruskali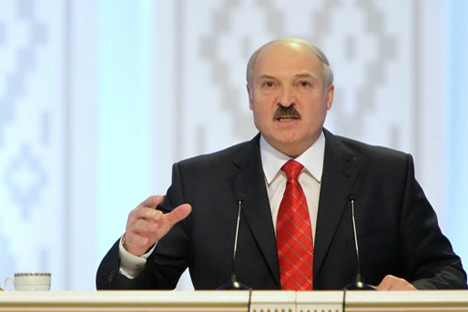 Belarusian President Alexander Lukashenko. Source: Press Photo
Belarusian President Alexander Lukashenko tells a news agency that the country is ready to divest a small stake but insists on driving a hard bargain with investors.
The Belarusian government is looking to sell a minority stake in potash producer Belaruskali and is in talks with India and China among other countries, President Alexander Lukashenko told Reuters in an interview. Lukashenko also told the news agency that the country would not reduce its high valuation of the company.
Belaruskali, which produces 15 percent of the world's supply of potash fertilisers, has several suitors including Uralkali. The Russian company however believes that its Belarusian counterpart is overvalued, according to the Reuters report.
"There is much talk about Belaruskali. We are ready to privatize the company, but you have to pay. We have calculated its cost - $30-$32 billion," Lukashenko told the news agency. "There are five companies in talks now. There are talks with the Chinese, Indians, someone from the Arab world and two Europeans," Lukashenko was quoted by the agency as saying.
In October, Lukashenko told the news agency that he had turned down a bribe of $5 billion which had been offered to him by unnamed oligarchs to purchase Belaruskali at a third of the price. On a visit to Minsk in July, Russian Prime Minister Dmitry Medvedev pushed for Belaruskali's privatisation but questioned its valuation, Reuters added.
Indian investment depends on buy-back agreements
The governments of India and Belarus are in renewed talks for an Indian stake in Belaruskali, but this hinges on Minsk agreeing to a long-term buy-back agreement in proportion to the equity investment, an unnamed official in India's Chemical and Fertiliser Ministry told miningweekly.com.
"There has been positive movement in government-to-government talks on Indian investment in Belaruskali. But the objectives of the Belarus government disinvestment in Belaruskali and the subsequent Indian stake in the potash producer still need to be reconciled through further negotiations," the website quoted the official as saying.
"A long-term buy-back contract would have to be a corollary for the Indian investment to be strategic. But indications were that the Belarus potash producer would prefer sales based on short-term market conditions," the official said.
India has been in talks with Belarus over a stake in the potash giant for the last 3 years, sources in the Indian government told RIR. Alexander Lukashenko on a recent visit to India called for increased trade between the countries and a greater participation of Indian companies in the Belarusian economy.
All rights reserved by Rossiyskaya Gazeta.