The star on the world hockey scene
Road to the NHL: From Krasnoyarsk to Carolina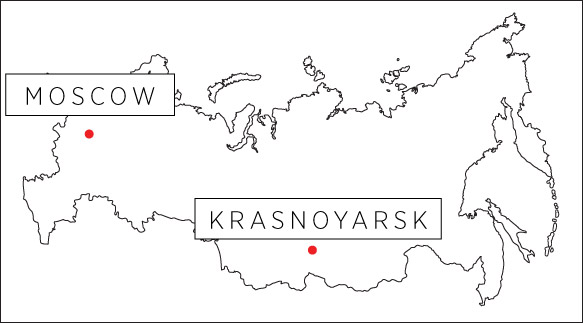 NICKNAME:
Russian Mystery
His page on Twitter
BORN March 3, 1984 in Krasnoyarsk, Russia
HEIGHT: 6 ft 2 in
WEIGHT: 209 lbs
CONTRACT FOR 2012/13 SEASON:
$7,000,000
CAREER IN NHL:
469 matches


197 goals

211 assists
CAREER: Lada (Togliatti, Russia), Washington Capitals (NHL), Portland Pirates (AHL), Lada (Togliatti), Khimik (Voskresensk), Washington Capitals (NHL)
Alexander Semin began playing hockey as a boy at the Traktor Chelyabinsk Hockey School. Semin's father was a hockey coach, but he chose not to train his son and entrusted him to a pair of safe hands. "Dad, of all people, did not train me, he simply put me on my skates when I was 5. Later he took me to my coach Sergei Frolov. He was coaching boys born in 1980 and I was born in 1982. So I matured with my mates, who were two years older than me, and I stayed with them until I was 15," Semin said.
The 2001/02 season marked the start of his adult career; it was then that he moved from Traktor's second-tier team to its first-tier team. That season, Semin scored 21 goals and made 8 assists. After a year, Semin joined Lada (Togliatti) of the first-tier Russian Superleague, scoring 10 goals and making 7 assists. Scouts in the West took notice and Semin received a high draft number, 13th overall, in the 2002 NHL Draft from the Washington Capitals.
The Capitals were then in a period of profound crisis and did not miss the chance to acquire this rising star on the world hockey scene. Though Semin played well during his debut 2003/04 season in the NHL, racking up 22 points (10 goals, 12 assists), he was forced to leave the Washington club for the Portland Pirates (AHL), where he earned 15 points for the season. During the famous 2004/05 NHL "military lockout," when it was announced that all Russian players liable for call-up would have to perform their military service or, at the very least, play for Russian hockey clubs for the duration of that service, Semin returned to Lada in Togliatti.
He began his 2005/06 season there. Due to financial difficulties, the Lada club was forced to let several players go, but since Semin was still serving in the Russian Army, he could not leave the club. His agent and lawyers filed suit, and Semin transferred to Khimik (Moscow Region).
No less important was the fact that during his season with Lada, Semin had earned $950,000, whereas in the previous season with the Washington Capitals he had earned a tax-free $2 million plus the use of a house and automobile at no charge.
Famous for
Stubborn refusal to speak English
After his less than successful debut season and his two-year stint in service to Russian hockey, Semin's second appearance in the NHL was more than successful. In the fall of 2006 the 22-year-old forward began turning out goals and assists at such a rate that he quickly became one of the team's highest scorers. He racked up 73 points (38 goals, 35 assists). Together with Alexander Ovechkin, Semin often acted as the Capitals' magic wand and a threat to every goaltender in the league.
But Semin was an inconsistent player. He sometimes sent the puck into enemy territory and often made passes that were risky. All this, combined with his susceptibility to injury and stubborn refusal to speak English, did not benefit his reputation. During the 2009/10 season, he racked up 84 points (40 goals, 44 assists), establishing a new record for results in his career.
Today Semin is one of the leaders in the NHL for the number of hat tricks. He has managed three this season, all of them performed within a 35-day period, from Oct. 23 to Nov. 26.
In his own words
About the Capitals
"When I joined the Capitals, the team was a lot stronger that it is now because it was almost all stars. Before that they had been knocked out of the Stanley Cup in the quarterfinals, I believe… There were a lot of famous players. But at the end of the season they were all traded to other clubs. And the Capitals were left with nothing. For two years (until Ovechkin arrived) there was real stagnation. Now, we're a young team, good and fast. Just what's required at the moment."
About the regime
"In Washington I sleep a lot. I go to bed at midnight and get up at nine. I train. Then sleep again — from one to four. Because there isn't much to do there. That's why I just sleep and sleep."
About Canada
"Montreal, Ottawa, Toronto, Vancouver, those are all cities where people are crazy about hockey. Hockey for them is number one. As for the United States… Say, two years ago only 10,000 fans came to our games. Today, we have full stadiums, 18,000-19,000. But in Toronto and Montreal, the most hockey-mad cities, tickets are always sold out."
With his Russian team, Semin won a Gold Medal at the 2008 IIHF World Championships and a Silver Medal at the 2010 Championships. In January 2012 Semin signed another 1-year contract extension with the Washington Capitals, putting to rest all the rumors about a possible trade.
Personal
Spent his first million on his parents

Semin's parents have always taken a serious interest in their son's career. His mother traveled with him to Togliatti, and then to the United States. Semin's father, a hockey coach, moved to Krasnoyarsk for the sake of his son's career and headed Lada's second-tier team. Now it is clear why Semin spent his first million on his parents. "I bought a flat for my parents, a car for my dad. As for myself… I like to live in comfort. Everybody wants to live well. I hate being in financial straits."
Semin likes to spend his holidays in his native Krasnoyarsk: "I am always glad to come to my native Krasnoyarsk. I have many friends there. My parents don't mind because they were by my side during the championship. We go to our dachas, have barbecues and a jolly good time. We like to go to the famous lakes of Khakassia."
Semin's idol is former right-winger Pavel Bure, once known as the "Russian Rocket" for his speed.
Semin likes to play soccer but this is a problem in the United States. "I adore football. But under my contract with Washington Capitals I am not allowed to play anything but hockey. No basketball, no skiing. Anything that might lead to injuries is banned."
Semin owns a house in Washington and drives around town in a CLS class Mercedes. Since moving to the States, he has taken a liking to American movies. His favorite actors are Brad Pitt and Matt Damon. Semin is still single. He says he has yet to meet the girl of his dreams, though the media is forever linking him romantically with this or that pop star.
All rights reserved by Rossiyskaya Gazeta.