India remains Russia's closest strategic partner: Alexander Kadakin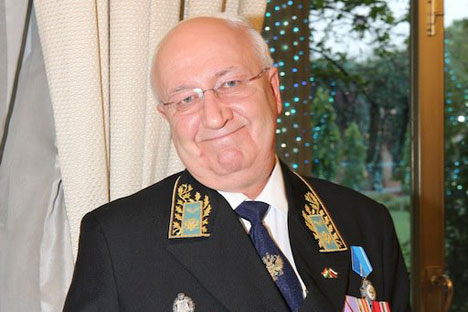 Alexander Kadakin, Russia's Ambassador. Source: Press Photo
Maintaining that Indo-Russian ties were as good as ever, the Russian Ambassador asked the media to refrain from sensationalism.
India should not worry about Russia's increasing ties with China and Pakistan since New Delhi remains Moscow's closest strategic partner, Alexander Kadakin, Russia's Ambassador in India said on Thursday.
On board the Marshal Shaposhnikov, which is at the Mumbai Port for the Indra exercises, Kadakin dismissed media reports about the cooling of ties between Russia and India as "absolute rubbish" and said the press was indulging in sensationalism. While conceding that Russia would like better relations with Pakistan, the ambassador said they would not come at the cost of relations with India. "Pakistan as a sovereign nation is important to Russia and it has its own independent value," Kadakin said, "but as we have been repeatedly saying, we will not supply them with anything that may be harmful to India...India is our closest strategic partner."
The Russian Ambassador said China, which shares a 4000-plus kilometre border with Russia, is an important partner and wished India would continue to improve its relations with its northern neighbour. "The more we cooperate with the RIC (Russia-India-China) format, the better it will be for the world," Kadakin said. While suggesting that it would be best for India and China to solve their border disputes, the Russian ambassador maintained that these kinds of things tend to take time. "It took us more than 30 years to regulate our border with China," Kadakin said. China and Russia signed a treaty in 2004 where Beijing was handed the Tambarov Island half of the Bolshoi Ussuriski island, both on the Amur River, as a final settlement to the border dispute between the countries that dated back to the 19th century.
When asked about further cooperation between Russia and India, the ambassador that the sky wasn't the limit since the countries have been cooperating even in outer space. "There isn't a field of human activity where India and Russia would not cooperate," Kadakin said, citing examples as diverse as India's Moon mission and fifth generation fighter aircraft. The ambassador was also pleased with the growth in people-to-people contact between Russia and India, adding that two-way tourism is on the increase.
Vladimir Putin's December visit to India
Kadakin said Russian President Vladimir Putin's upcoming visit to India is not a routine affair. Emphasising that Russia was the first country to hold annual summits with India, the ambassador said the yearly meetings bought "tangible results" in cooperation.
"Hopefully stage three and four of Kudankulam will be settled because very active negotiations are taking place now," the ambassador said. India's insistence to apply its new civil nuclear liability law to these reactors has been to Russia's chagrin. "We are not afraid of 'liability,' but at the same time, it is not fair when the Indian side has asked for the same terms of credit, which was used in constructing the first two reactors...and you plant liability on us," he said.
When asked about whether the first reactor of Kudankulam would go live when Putin visits India, Kadakin said that the decision was India's.
Vikramaditya Delays
While reemphasising that the Vikramaditya aircraft carrier would be delivered by the end of 2013, Kadakin called on the India media not to dramatise the delays. "The Vikramaditya is a very sophisticated lethal weapon system...it is practically a new ship and only the frame is old," the ambassador said adding that Russia wanted the aircraft carrier to be completely ready and set before its handover to India. Displaying the wit that has made him popular in India in a career that has included several postings in the country, Kadakin said: "if you want to have a healthy baby, it should not be born prematurely."
While hailing India's scientific and technological progress, the Russian Ambassador said that Russia would continue to share technology with India. "We are sharing our technology with you, unlike other countries, who promise but do not share," Kadakin said.
All rights reserved by Rossiyskaya Gazeta.