A scorcher for a shot
Road to the NHL: From Izhevsk to Columbus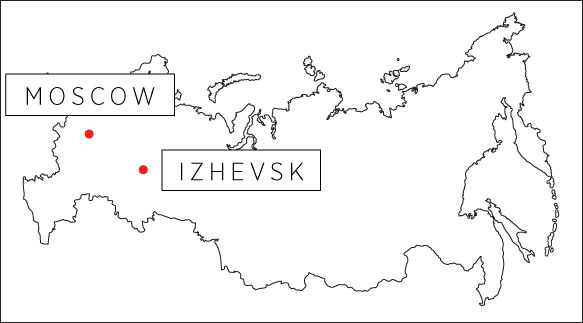 NICKNAME:
Toots
BORN July 19, 1983 in Izhevsk, Russia
HEIGHT: 6 ft 2 in
WEIGHT: 209 lbs
CONTRACT FOR 2012/13 SEASON:
$4,000,000
CAREER IN NHL:
558 matches


42 goals

143 assists
CAREER: Izhstal (Izhevsk), SKA (St Petersburg), Guelph Storm (OHL juniors), Ak-Bars (Kazan), Hartford Wolfpack (AHL), New York Rangers (NHL), Columbus Blue Jackets (NHL)
Tyutin represents the Izhevsk hockey school. In 1999, he made it on to the Izhstal main team. After showing his skills at the local level, he received many invitations from Russia's Superleague clubs.
He settled on St Petersburg and he joined SKA in 2000. Despite his youth, the SKA coaches let him play a lot.
At the end of the season, Tyutin had 6 points (2+4) and, most important, excellent Plus/Minus stats. At the NHL draft the same year, he was selected by New York Rangers in the second round, 40th overall pick.
The well-built defenseman with a scorcher for a shot was noticed by the Rangers during the 2001 Junior World Championships, during which he scored five points in six games and earned 18 penalty minutes.
In the 2002/03 season, Tyutin played for Ak Bars Kazan. Yet, having fallen out of favor with Vladimir Plyushchev, Fedor was allowed to play just 10 games.
After that, his career rose. He became a real sensation in the OHL Canadian junior league, where he racked up 59 points in 53 games for Guelph and helped Storm become the league's second best scoring team.
All this allowed Tyutin to debut in the NHL but, failing to stay with Rangers, the defenseman returned to St Petersburg's SKA.
After a less-than-successful season in the Superleague, Tyutin went back to the NHL, where he was warmly welcomed by the Rangers, which had lost half of its defensemen during the inter-season.
In his own words
About honesty
"The best quality a person can have is honesty, so that no one talks behind your back."
About Nikita Nikitin
"I tell you, I feel an emotional upsurge every time I join the national team. I don't feel tired at all. Maybe that's because I am still young. Nikita Nikitin is a very good player, I like playing with him, especially given his Russian origins. This helps us keep together on the ice."
About his idols
"When I was a boy, Fetisov was my hero. His play always delighted me. I am proud that we had such a great hockey player. I also loved watching Brian Leetch and Scott Niedermayer play. I really enjoyed their game style, skating and masterly control of the puck. They seemed to come from a different planet. Now, I can also single out Pavel Datsyuk, he is a virtuoso player."
In the NHL, Tyutin became a full-fledged defenseman and one of the league's most reliable; his blue line slap shot is still an extremely effective weapon during a power play.
Famous for
Leaving the big city for the province

Tyutin was traded in 2008 from the glamorous Rangers to provincial Columbus for Nikolai Zherdev. In other words, Fedor went from the Blue Shirts to the Blue Tunics.
The trade turned out poorly for the Rangers – Zherdev was a flop in the NHL, while Tyutin became one of Columbus's best players. Last summer, Tyutin signed a six-year contract worth $27 million.
Tyutin has played in two Olympics and on the team that won the 2008 World Championships.
Personal
Plays soccer all day long
Tyutin's childhood idol is Vyacheslav Fetisov, the former captain of the Soviet national hockey team.
His favorite leisure activity is fishing. He claims that he could play soccer all day long.
Tyutin's absence from the training session in February 2011 was due to the birth of his daughter, Nina, not an injury as rumored.
All rights reserved by Rossiyskaya Gazeta.