Will Europe succeed in Central Asia?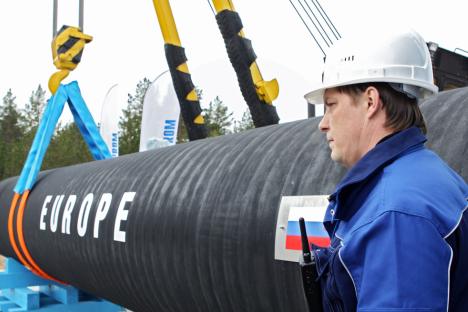 Will Europe succeed in Central Asia? Source: ITAR-TASS
European politicians are going to place the Central Asian region on the list of its strategic interests amid Russia's growing influence in the area and the region's rich resources and beneficial location.
The High Representative of the EU for Foreign Affairs and Security Policy, Catherine Ashton, has started her Central Asian tour. It is likely that a new cooperation agreement could be signed between the EU and Central Asia after all negotiations as part of the tour are over.
After the collapse of the Soviet Union many Central Asian republics became sovereign states - Uzbekistan, Turkmenistan, Tajikistan, Kyrgyzstan and Kazakhstan. And not only Russia but also China, the U.S. and NATO countries would demonstrate both their political and economic interests in the region. Russia's close location to Central Asia forced the western strategists to impose military control over the area, while Beijing was primarily interested in the natural resources exploration and construction of roads. Such projects have been already launched with Kazakhstan and Tajikistan.
The EU has decided to bring more clarity to the issue. Expert for the Strategic Studies Institute, Azhdar Kurtov, believes that it would be an exaggeration to say that the ongoing EU expansion in Asia can in any way infringe upon Russia`s interests there.
"The EU Strategy for Central Asia adopted five years ago has not been implemented. Europeans have failed to oust other countries enjoying key positions in the region. There were objective reasons behind that, for example, the eurozone crisis which made the European governments focus more on domestic rather than foreign issues. Mrs. Ashton`s visit is just about diplomacy. It is clear, however, that Europe is still very interested in the region's energy resources. Meanwhile, all contacts the Central Asian states have had recently show their governments more willing to deal with China rather than Europe. And this is where Russia's positions remain intact."
One should mention that the idea of creating the Eurasian economic union for Russia, Belarus and Kazakhstan put forward by Russian President Vladimir Putin in 2011 is a source of concern for Europe. Some even fear that the Kremlin has been trying to have a 'mini' version of the Soviet Union. Neither Russia nor China, however, take these worries seriously as it is clear that this all is about mutually beneficial economic integration, not about finding a common political ground.
Expert at the Institute for Humanitarian & Political Studies, Vladimir Bruter, thinks that despite speaking publicly about their international interests Europeans will remain focused on domestic issues.
"This is not about tough competition with Russia- the EU simply does not have money for this. They just try to remain active not to get ousted from the Central Asian region."
The EU, indeed, has recently pledged to spend $750 million on reforms in Central Asia. The idea was, however, postponed until better times due to the eurozone crisis. This has resulted in Central Asian states losing confidence in the EU leadership. At the same time, Russia and China continued investing in promising projects such as the construction of a gas pipeline jointly by China and Turkmenistan, which is to link Central Asia and China, and the construction of several hydropower plants and nuclear power plants in Kyrgyzstan and Kazakhstan.
First published in the Voice of Russia.
All rights reserved by Rossiyskaya Gazeta.