Russian experts deny losing Indian arms tender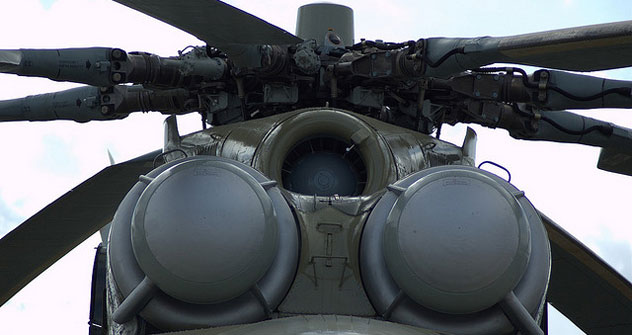 Mi-26T cargo helicopter. Source: Antarant / Flickr
Media reports that India refused to buy Russian aircraft labelled as "information war".
Recently, several Indian publications reported that Moscow had lost tenders for heavy combat and transport helicopters and planes. Rosoboronexport dismisses this information saying that the results of both tenders have not been announced yet.
Information about Russia allegedly having lost the tenders appeared in the Indian press in early-November. The reason mentioned was that Russian aircraft did not meet New Delhi's requirements. The Russian defence company declared that both the updated version of the MI-26 transport helicopter (MI26T2) and the modernised air refueller Ilyushin-78 (Ilyushin-78MK) fully met India's technological requirements. Rosoboronexport emphasised that the information about US and European aircraft winning the tender was not true.
This is not the first case of such misinformation, military observer Viktor Baranets tells The Voice of Russia. He says that rumours are usually spread exactly when Russia stands a good chance of winning tenders. "I can't remember a single time in the countries where we sell weapons when deals with Russia were not preceded by misrepresentations or just blatant lies," Baranets says. "Sales of weapons are always accompanied by information wars. Rumours are usually run by those who would like to sow the seeds of discord between Russia and India or those who are risking the loss of their own contracts."
Baranets adds: "Russia is the second largest exporter of weapons in the world after the US. We have managed to preserve this position in spite of the economic crisis and the growing competition on the part of Beijing. New Delhi is Moscow's main partner in this sphere. Over a quarter of Russian export of weapons falls on India. In addition, there are some joint projects. There are certain contradictions, of course, but they are solved on the partnership basis."
70 percent of the Indian Army's tanks are of Russian origin and that the tanks have been tested in all temperatures, according to Baranets. "Where US Abrams tanks started 'suffocating' on the second kilometre Russian ones completed shooting successfully and accomplished a long march at a temperature of plus 50 degrees Celsius," Baranets says. "US experts themselves admit that Russian planes and helicopters excel American ones in some military components."
Baranets admits that there were minor glitches in the defence relationship between the countries. "Speaking frankly, Indians have certain complaints, for example, about the Vikramaditya aircraft carrier but the main thing is that we enjoy mutual understanding and India continues buying our weapons."
Naturally, this stable situation does not make Washington happy, political scientist Vladimir Evseyev believes. And India is playing on contradictions so as to obtain the best deal and frequently declares the need for diversifying the deliveries, he says.
Evseyev says: "We have long-term contracts and India means to continue cooperation with Russia in the field of shipbuilding. However, the US defence and industrial complex is interested in taking over these contracts. It is possible that some pressure is exerted on India with the use of both political levers, including the course of building strategic partnership, and the fact that Russia is expanding its contacts with Pakistan."
Evseyev speaks of another "information scandal" regarding deliveries of Russian military equipment. "Some media reported the failure of a multi-billion contract which Moscow had signed with Baghdad. The allegation was that the contract had been cancelled due to suspicions of corruption," he said. "Later, the Iraqi authorities announced that the problem sprang up due to some internal difficulties, such as procrastination on the part of Iraq. Now an investigation is being carried out there but it will not affect the fulfilment of the contract."
First published in the Voice of Russia.
All rights reserved by Rossiyskaya Gazeta.