Constantly hampered by injuries
Road to the NHL: From Samara to Colorado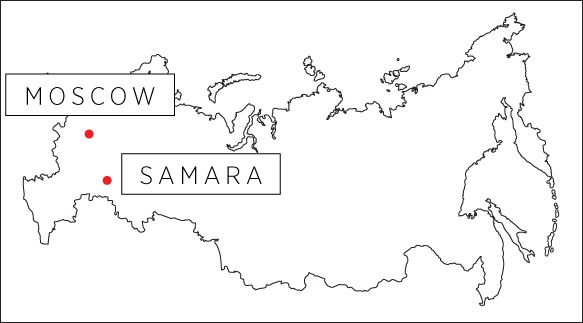 NICKNAME:
Toots
His profile on Facebook
His page on Twitter
BORN April 27, 1988 in Samara, Russia
HEIGHT: 6 ft 2 in
WEIGHT: 209 lbs
CONTRACT FOR 2012/13 SEASON:
$4,000,000
CAREER IN NHL:
112 matches


56 wins

91.5% save percentage
CAREER: Lokomotiv (Yaroslavl, Russia), Hershey (AHL), Washington (NHL), Colorado (NHL)
At the age of eight, Varlamov joined the hockey school at the Sports Arena of the Central Sports Club of the Armed Forces (Samara). In 2000, the young goalie was invited by Lokomotiv after he was named best in his category at a tournament in Kirovo-Chepetsk. Varlamov's parents did not want him to move to another city but, a year later, they gave in and let him go to Yaroslavl.
There, he became a top goalie in a team of players born in 1988. In the 2004/05 season, Varlamov debuted on Lokomotiv's farm team, Lokomotiv-2. In September 2006, Semyon played in the Russian championship against Krylya Sovetov (5-4 ОТ). During that game, the celebrated goalie Yegor Podomatsky was left on stand-by. In his first season, Varlamov played 39 games, during which he conceded 88 goals.
As a member of Russia's junior team, he took part in two world championships (2006 and 2007), winning silver awards in both. He also played in the 2007 Super Series against the Canadian juniors. During the seven periods, Varlamov allowed 11 goals.
He could have become the starting goalie in the 2007 Super Series against the Canadian juniors, but Sergei Nemchinov, the head coach of the Russian team, made the unexpected decision to remove Varlamov from the line-up, and Russia flopped.
In 2006, Semyon was drafted by Washington as the 23rd pick.
In the 2007/08 season, he played 60 games in the Russian championship, conceding 131 pucks, and, together with Lokomotiv, taking second place, losing to Salavat Yulayev in the playoff games. The young goalie was also long-listed for Russia's national team and began preparing for the 2008 world cup.
Yet he did not make it to the 2008 World Championship, as he injured his foot during a final training session in Quebec. In the autumn of the same year, he went to the United States and signed a standard three-year rookie contract with Washington. In the first game, Semyon played for the Capitals against Carolina (4:1). During this game, he stopped all 20 shots but suffered a groin injury and had to be substituted. After that, he was sent to Washington's farm team, Hershey.
His NHL debut took place in December 2008, when Washington put Varlamov in a game against Montreal. Varlamov withstood insane pressure to make 31 saves in the Capitals' 2-1 win. During that season, Varlamov played only six games in the regular season, but played throughout the playoffs. A year later, Varlamov played 27 games during the regular season and the entire first-round series, in which Washington was beaten in the best-of-seven Stanley Cup series by Montreal 3-4.
Varlamov was constantly hampered by injuries, especially involving his groin. Rumor had it that the team's doctors weren't qualified enough to heal the goalkeeper. After moving to the Colorado Avalanche, Varlamov became the team's regular starting goalie.
Famous for
Sharpness and explosive speed
In the summer of 2011, Varlamov was at the crossroads of his career as a goalie. He signed a contract with CSKA, but Lokomotiv annulled the deal, saying it had rights to Varlamov. The issue went to court, but in the end, Varlamov rejected the idea of playing in the KHL and returned to the NHL with a three-year, $8.5 million deal with Colorado.
The only Russian on the Avalanche, Varly has greatly improved his English, and he has performed well: 1-0 against Boston (30 saves), 4-0 against Chicago (27), 5-0 against Columbus (28), 2-0 against Minnesota (30), 3-1 against New York (41).
Washington goalie coach Arturs Irbe was not a huge Varlamov fan, but he still praised the Russian, comparing him with Michal Neuvirth: "They have pretty much the same reaction, but Semyon has the skills: sharpness, quickness and explosive speed. Therefore he is more mobile and energetic in the net. He takes on a significant load during every game. Varlamov needs to improve his physical conditioning so that his body doesn't give out."
In his own words
About Alexander Ovechkin
"Sasha is every fan's idol. He is a superstar. At the same time, he remains a down-to-earth kind of guy."
About Michail Neuvirth
"We have dinner together every day, go to the movies holding hands, play Nintendo. All kidding aside, we have a professional relationship."
About his team
"When Patrick Roy called me and congratulated me on coming to Colorado, I couldn't contain how happy I got!"
Varlamov could have become a world champion at the 2008 World Championship in Quebec if had hadn't injured himself during practice. As the starting goalie at the 2010 World Championships, Varlamov earned a silver medal. He is expected to be invited to play for the Russian national team at the Sochi Olympics.
Personal
Loves to read
Varlamov inadvertently initiated a huge international reform when the IIHF changed the spelling of player last names. Kovalev turned into Kovalyov, while Fedorov became Fyodorov. This is all because Varly demanded that his first name be spelled as Semyon and not Simeon or Semen, which is not a name one would want in English.
Varlamov says that Denver is a very beautiful and athletic-minded city. His contract doesn't allow him to ski or ride a motorcycle, but in his leisure time he goes to Aspen and has a good time.
He loves to read and enjoys the work of Chingiz Aitmatov.
All rights reserved by Rossiyskaya Gazeta.