BRIC countries likely to grow at 6.9 pct in 2013: Jim O'Neill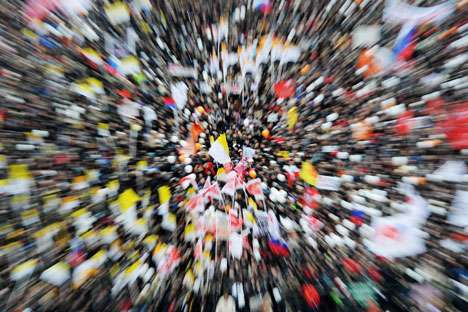 BRIC countries likely to grow at 6.9 pct in 2013. Source: RIA Novosti
The Goldman Sachs economist responsible for the term BRIC says the emerging economies will continue to outpace global economic growth.
Despite a slew of pessimistic reports about the progress of the leading emerging economies of Brazil, Russia, India and China, Jim O'Neill who created the BRIC acronym is bullish on the countries. In a letter addressed to a the Forum on Economic Situations of BRICS countries in Beijing, O'Neill said the emerging countries would grow at a rate of 6.1 percent this year and while growth touches 6.9 percent in 2013.
"We expect all the BRIC countries will perform better in 2013 than 2012, although it might not be dramatically better than expectations," O'Neill was quoted as writing in a letter to the Beijing forum by India's PTI news agency.
"Collectively, we are expecting the BRIC countries to grow by 6.9 per cent up from a probable 6.1 per cent in 2012," the chairman of Goldman Sachs Asset Management wrote. "We are forecasting (the global growth at) 3.6 per cent for 2013, and 4.1 per cent for 2014," PTI quoted O'Neill as writing.
The Goldman Sachs economist however warned of challenges, the news agency said. "In Brazil, which has been the weakest of the four in 2012, they would hope to see some response from the considerable monetary and fiscal stimulus offered this year," the agency quoted O'Neill as writing. Russia would have to decrease its dependence on energy and India would have to follow up on the process of reforms, according to O'Neill. For China, the big challenge lay in sustaining the signs of a shift of growth drive to consumers, which looks encouraging, the news agency cited O'Neill as saying.
O'Neill was said he didn't think anyone should exaggerate the importance of European and US problems driving the environment of the BRIC countries. "They should be perfectly capable of driving their own growth rates," PTI quoted O'Neill. "Indeed, even with these rates I forecast, by 2014, they might all become collectively bigger than the United States, so I think they are doing just fine, despite their challenges."
China calls for deepening BRICS ties
At the forum in Beijing, Chinese leaders called for expanding economies ties between the BRICS.
Zhu Guangyao, China's vice-minister of finance said he expected the idea of establishing the BRICS Development Bank to be accelerated when initial findings of a study are released at the next BRICS Summit in Durban in March 2013, according to the China Daily.
The state-run paper also cited Li Rongcan, China's assistant commerce minister, as saying that trade exchanges among BRICS countries exceeded $320 billion in 2011, six times the amount of 10 years ago.
China's overseas investment in Brazil, Russia, India and SouthAfrica reached $23 billion, according to Li. "The countries should continue widening their trade and investment exchanges, to seek a better position in the global value chain," Li was quoted by China Daily as saying.
All rights reserved by Rossiyskaya Gazeta.