Penza could probably be called one of Russia's most historic and fascinating cities. It's a charming and relaxing town in the midst of some beautiful countryside that has plenty of historic and cultural sites to explore.
The city gets its name in from the river on whose shores it was built but the meaning of the word 'penza' has long been lost over the centuries. Originally the city was built on the bank of the Penza River, but over time it expanded and now a second river called Sura flows through its territory.
Nowadays Penza is one of Russia's major industrial, transportation, and cultural centres, famous for manufacturing computer equipment, watches, and production equipment for a lot of different industrial sectors.
But apart from its industry, Penza's long attracted attention for its beauty and unique landscape. In Penza you'll find a mix of historical and architectural monuments from the 18th and 19th centuries that blend right on in with modern buildings. This interesting architecture and original layout give the city a distinctive look and feel to it.
The good news is that you can visit Penza most times of the year since the Penza region generally has a temperate continental climate with hot summers and relatively mild winters with little snow.
As you'd imagine, Penza has some quite famous Russian historical figures that were born there, lived there or studied there. In fact two giants of Russian literature were born in what is now the Penza region.
Mikhail Lermontov will be no stranger to anyone that knows about Russian literature. He was a Russian romantic writer, poet and painter, sometimes referred to as 'the poet of the Caucasus'. A lot of people consider him to be the most important Russian poet after Alexander Pushkin's death. You can still feel the influence of his prose and poetry on Russian literature even today.
Another famous Russian literary icon by the name of Alexander Kuprin comes from a place very near Penza. He was a Russian writer, pilot, explorer and adventurer and is perhaps best known for his story called The Duel.
Famous names aside, what about the city and its sights and sounds?
A good place to start is Penza's main street which is something you should take the time to have a stroll around too. Funnily enough, it's called Moscow Street but gives you a good impression into what Penza old-style architecture looked like. It's a pedestrian zone too, so no need to worry about cars. There's a really nice building that you'll come across on Penza's main street called the meat passage, or meat arcade. Despite being built in the late 1800s and being a place where meat was sold, the building is looks more like an aristocrat's house.
How to get there:


The easiest way to get to Penza is from Moscow. A regular train (#052) departs from Kazanskiy Railway Station at about 8:30 p.m. daily. It is quite comfortable and is affordable even for low-budget backpackers. In about 12 hours you will arrive at Penza's main railway station, "Penza I", at the centre of the city.
Some of Penza's other nice sights are, as with many other Russian towns, its traditional churches. Some of the best examples of church architecture that has been preserved are probably the Trinity Convent built in 1690, the Protection or Pokrovsky Monastery, the Peter and Paul Cathedral (sobor Petra i Pavla; 18th century), the Transfiguration of the Savior (Spaso-Preobrazhensky) Monastery (18th and 19th centuries), Transfiguration (Preobrazhenskaya) Church, and the Church of St. Nicholas. These traditional and historic churches will give a great photo opportunity and give you a nice look into the city's past. They're the main churches and cathedrals in Penza too.
If art is more your thing, you might like to see the Penza museum of national art where you can find all sorts of interesting examples of wood carvings, clay work and other nice examples of local productions too. Also, in the same building that the museum is in, you can see the S.L. Turin's study, who was a timber merchant. It's quite lucky that his study is even still intact, especially since the study itself is a bit of a masterpiece since it has so many intricate and beautiful carvings.
Another interesting place and one of Penza's most interesting sights is the futurism house. Before the revolution, this was the place where local Penza artist would visit. It was also a hangout for futurist poets. Mayakovsky even used to visit the Futurism house.
If parks are your thing, one nice place to take a stroll in is the Central rest and Culture Park named after Belinsky. You might be interested to hear that some of the trees there are over 300 years old, which I suppose sort of makes them monuments of nature.
If you've had a stroll around some nice parks and maybe seen some of the museums, you could always take a little trip out of town and go and see the place Lermontov grew up, which was a small village that used to be called Tarkhani. The village now preserves his remains and is only a couple of hours away from Penza.
As you can imagine, Tarkhani and the mansion that dates back to the end of the 18th to 19th century is one of the most famous Lermontov places in Russia. This was where the poet spent his childhood. The place is not called Tarkhani anymore, instead, you'll find the Lermontov estate in the Belinsky area of the Penza region, in a village appropriately called Lermontov village.
There's an interesting event that happens on the first weekend in June, when Lermontov village holds an all-Russian Lermontov holiday where you can see all kinds of cultural and artistic displays. From the Penza bus station it takes about 2 hours to reach the place, so if you're there for the first weekend of June, go check it out.
Coming back to the city though, you won't be disappointed. Apart from its museums, Penza has 3 theatres, one of which, the drama theatre (1793), is the oldest in Russia; 2 philharmonics, 10 cultural centres, 66 libraries, a circus, a planetarium, and 14 movie theatres. So being bored is not something you should need to worry about!
Historical Value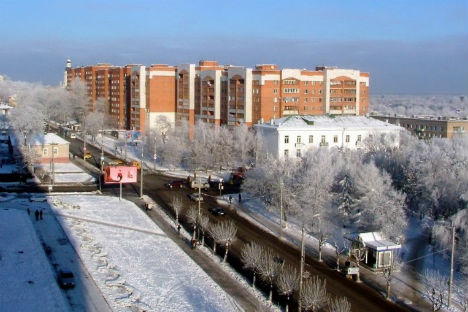 Winter in Penza. Source: Press Photo
Penza's history began in 1663, when, like many cities in central Russia, it was constructed as a fortress to defend Russia's borders against nomad raids. For a lot of years Penza served as great protection from nomads and other hordes, who attacked the fortress in 1668, 1680 and 1717, but never took it. As a blessing, the tsar gave Penza the Our Lady's Icon of Kazan, which was considered to be miracle-working. According to the legend, the miracle icon saved the town from destruction in 1717. The Our Lady's Icon of Kazan is still in Penza to this day.
Things started to change early in the 17th century when Russia's borders moved away from Penza, and the town lost its strategic importance. Later in the same century, the Penza region became the centre of landowners' estates. In 1780 Penza was already the centre of the region and the following year brought the town its own coat-of-arms.
Things continued to develop and thanks to the large amount of various cultural and educational institutions that had appeared, Penza became known as the "New Athens". Russian tsars visited Penza several times too.
The end of 19th century brought railway to the town, which gave another boost to the city's economy and cultural development. New industrial enterprises kept appearing, along with new technologies.
In the last century, during first years after the October Revolution there were severe fights against the new government in Penza with plenty of peasant revolts breaking out. Of course, as you know, regardless of revolts, the Soviet System was established in the Region in 1918 which made Penza one of the epicentres of the civil war.
But from the troubles of the civil war to today, Penza is a completely different place and a city where multi-story buildings exist side by side with 18th- and 19th-century architecture.
You'll find plenty of highly developed infrastructure, rich cultural traditions and a history full of famous names.
First published in the Voice of Russia.
All rights reserved by Rossiyskaya Gazeta.