Russians eager to transfer money abroad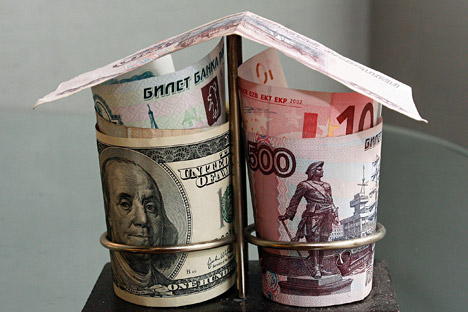 According to the statistics from the Bank of Russia, more and more Russians transfer their money abroad for different purposes. Source: Alamy / Legion Media
The Bank of Russia reveals that the bulk of money Russians send abroad is for grants and donations, in the category of "non-repayable transfers and proceeds." Why are Russians so eager to donate cash to economically prosperous nations?
Russians transferred $21.6 billion to foreign countries outside the CIS in the first three quarters of 2012, according to statistics released by the Bank of Russia in early December.
"It's possible that the transfers are going to fellow Russians living abroad," said Dmitry Miroshnichenko, a research fellow at the Center of Development Institute of the Higher School of Economics.
It is worth noting that, over the first three quarters of 2012, resident individuals remitted more than $7 billion in so-called grants out of the country. According to experts, transfers often have similar purposes — tuition payment or moving for permanent residence abroad.
But under existing law, international wire transfers from Russia are capped at $5,000 per banking day, says Olga Ponomareva, managing partner of a group of law and audit firms. Moreover, banks always request an explanation for large amounts. However, there is no cap on transfers to close relatives or on a Russian citizen's transfers of foreign currency to their own account in a foreign bank. The latter option, however, requires that the tax authorities be notified of any bank accounts opened outside of Russia.
Apparently, few people wish to notify the taxman. And not everyone has close relatives living abroad, so people send money to friends and acquaintances living in Europe, for example. Experts believe that disguising the transfers as "donations" or "grants" could be a way to circumvent the caps on wire transfer amounts.
On the other hand, it would be possible to transfer large amounts in $5,000 daily chunks, in theory.
"But to go to a bank every day, like it's your place of work? I don't think this is realistic. Especially as bankers will inevitably pay attention to regular transactions made by the same person," Miroshnichenko said.
Plus, the Central Bank treats donations and grants as non-trade operations that are non-taxable, Olga Ponomareva says.
In terms of countries where the money is wired, according to YTD data, Switzerland, the United Sates, and the UK top the list, rather than China. But China has been beating out the others in the third quarter of each of the past four years. For instance, in July-September of this year, residents sent $432 million to China, with the average remittance being $3,351, according to the Central Bank.
"Seasonality is a common feature of remittance patterns," said Sergei Pukhov, a senior research fellow at the Center of Development Institute of the Higher School of Economics. "China is the largest supplier of labor in the world today."
He added that the largest flows of wire transfers to China originate from trade and construction. This is why Pukhov believes that it is Chinese guest workers in Russia beating the records every third quarter. It turns out that, under the existing Law on Currency Regulation and Currency Controls, they can also qualify as "residents."
What does the future hold for money transfers from Russia abroad?
"Outbound transfers from Russia increased before the crisis, riding the wave of a construction and retail boom," Pukhov said. A similar trend was observed in the post-crisis period, as well. "But I can hardly imagine further growth of international remittances from Russia. The year 2013 will be more modest in these terms, and, in the best case, the amount of remittances would match this year's," the expert said.
First published in Russian in Rossiyskaya Gazeta.
All rights reserved by Rossiyskaya Gazeta.