India makes pitch for SCO full membership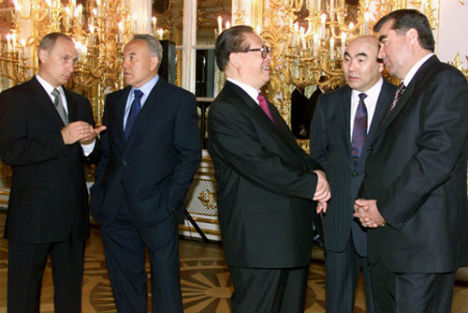 Shanghai five leaders. Source: Kremlin.ru
After years of ambiguity on its status in the regional grouping led by Russia and China, New Delhi requests full membership.
The Indian government on Wednesday told the Shanghai Cooperation Organisation (SCO) that it was ready to join the grouping as a full member. New Delhi has been an observer in the regional grouping that comprises of Russia, China, Kazakhstan, Tajikistan, Uzbekistan and Kyrgyzstan.
"Our leadership has made clear that, India stands ready to play a larger, wider and more active role in the SCO as a full member as and when the members of the SCO decide to take forward the expansion process," Sanjay Singh, Secretary (East) of the Government of India said in a statement in Bishkek.
The prime ministers of the SCO met in the Kyrgyz capital of Bishkek on December 4-5. "India has been following closely, as an observer, the evolution of the Shanghai Cooperation Organisation," Singh said. "We are impressed that the SCO has emerged as an important regional forum focussing on issues of regional importance that are relevant and contemporary. The SCO has played a constructive and valuable role in promoting peace and prosperity in our region. It has made significant contributions both to regional economic development and to regional stability."
The SCO was formed as an inter-governmental, mutual security organisation in 2001. Iran, Afghanistan, Pakistan and Mongolia are also observers in the grouping.
India was invited to be an observer by Russia, while China invited Pakistan, which has lobbied for full membership since 2003. New Delhi's position had been ambiguous. Russian diplomats privately expressed frustration at India's lack of a clear position on membership of the grouping, while sources in New Delhi maintained that China was blocking efforts to give Indian full membership. Beijing has officially "welcomed" India's accession to the grouping. Russia will hold the chair of the grouping and analysts believe that this bodes well for India's ambitions.
Central Asia and Afghanistan
India also spelt out its vision as a potential full member of the organisation by outlining its vision for stability in Central Asia and Afghanistan.
"A common vision and approach for rapid economic development of our nations and people should bind us together," Sanjay Singh said. "The role of the SCO to achieve this objective can be crucial. We need to pool our efforts to surmount the physical barriers posed by high mountain ranges like the Pamirs and the Tien-Shan and create transport networks for the free flow of people, trade and energy through the region." Singh added that an omproved communication network would help strengthen multilateral cooperation in energy, finance, infrastructure and telecommunications and boost trade and investment in the region.
India also said it wants to help in the rebuilding of war-torn Afghanistan and that the SCO can be a good platform to help develop Afghanistan. "The primary objective of India's development partnership, covering the entire territory of Afghanistan and every development sector, is to build indigenous Afghan capacity and institutions," Singh said. "We have no doubt that other members of the SCO family share these values and objectives."
Other areas identified for cooperation by India, within the SCO include the Regional Anti Terrorism Structure (RATS) based in Tashkent. "We look forward to greater engagement with RATS and the SCO member states in co-ordinating efforts to deal with the threats emanating from terrorism and drug trafficking," Singh said.
All rights reserved by Rossiyskaya Gazeta.