KHL coach fired after strained relations with NHL stars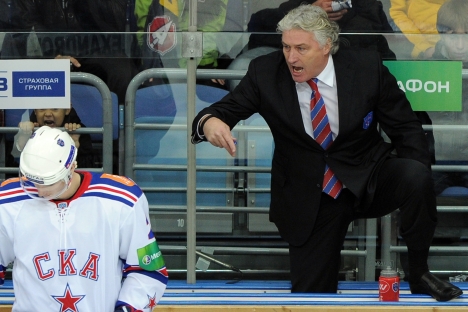 SKA St. Petersburg's head former coach Milos Riha. Source: ITAR-TASS
The strangest layoff in KHL history: SKA St. Petersburg's head coach has been relieved of his post, even though his team is currently first in the Regular Championship.
SKA St. Petersburg's head coach, Milos Riha, was sacked just after his team won a 4-3 victory against Vityaz Chekhov — a win that put them at the top of the KHL (Continental Hockey League) standings. In shock, the Czech specialist packed his things and flew home. Meanwhile Russian fans tried to guess the real reason behind his abrupt dismissal.
Some blamed team captain Ilya Kovalchuk, who left the New Jersey Devils for SKA during the NHL (National Hockey League) lockout.
"The talk about Ilya supposedly 'firing' Riha is complete nonsense," said famous hockey agent Yuri Nikolaev. "They're both my clients — they've known each other for ages and get along very well. There was no clash." Nikolaev thought the rumors might have been started by the fact that Kovalchuk publicly slammed a door in the locker room in Riha's presence.
The situation was made worse when no one on SKA's Board of Directors bothered to explain the reason behind the firing of the 53-year-old specialist. They merely stated something to the effect that their decision had not been an easy one to make.
RBTH has learned that Riha had strained relations with a number of players on the team, though he never clashed with any of them publicly. Nevertheless, the club bosses decided that the Czech chief had lost control of the team; his emotional way of talking to the Board only added fuel to the fire. The decision to let Riha go was made personally by KHL president and SKA Board member, Alexander Medvedev.
"In the last four years, SKA has shown a great offensive game during the Regular Championship, but it keeps being knocked out in the first or second round of the playoffs. This year, a similar situation is developing. This is very troubling to the Board of Directors, and we asked the club management to take note of this," said Alexander Medvedev.
SKA quickly found a replacement for Riha in the 50-year-old Finn, Jukka Jalonen, who remains head coach of the Finnish national team. Jalonen flew to St. Petersburg specifically to see the SKA-Vityaz match — the last SKA game to be coached by Milos Riha.
This suggests that the Petersburg bosses had made up their minds to replace Riha quite a while ago. The richest club in the KHL today, SKA has collected a whole galaxy of stars, including Kovalchuk, Vladimir Tarasenko, Sergei Bobrovsky, and Maxim Afinogenov. However, fans and specialists agree that SKA likely will not win the Gagarin Cup after firing Riha, who is looking for a new club to coach.
"Milos is home now, he needs to rest. He'll celebrate his birthday on Dec. 6; his negative mood will give way to a positive one, and then we'll see. I can say that he is in great demand both in Russia and in Europe. There are possibilities in the Czech Republic, in Sweden — and of course in the KHL," said his agent, Yuri Nikolaev.
Riha will not be out of work for long. Fans are already guessing what will happen if his new team meets SKA in the playoffs.
All rights reserved by Rossiyskaya Gazeta.