Protest participants share their experiences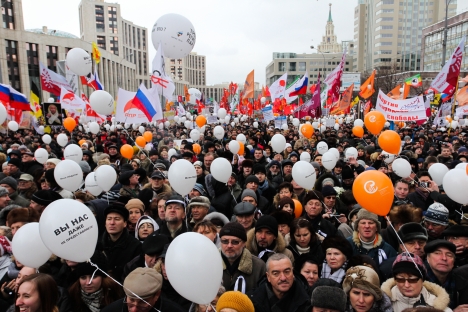 Post-election protests held on December 24, 2011. Source: Kirill Rudenko
Last December, mass protests were sparked by reports of massive vote fraud in Russia's parliamentary elections. Participants in the country's first big protest rally of the last 20 years share their thoughts on how their lives changed exactly one year ago.
Dec. 5 marked the first anniversary of the wave of mass protests that ensued in the wake of last year's elections to the State Duma. On that day in 2011, thousands of people, outraged by reports of electoral fraud, took to the streets around Chistoprudny Boulevard in the center of Moscow to take part in a rally under the slogan "We're For Fair Elections."
Police dispersed the protesters, arresting around 300 people in total. Five days later, Bolotnaya Square was the site of another gathering of tens of thousands of citizens. Lenta.ru talked to some of the participants of the rally at Chistoprudny Boulevard, whose lives have changed dramatically over the past year.
Sergei Vlasov, coordinator of Rosuznik, a nonprofit volunteer project that was founded eight months ago and seeks lawyers for those detained during protests:
"I work for a construction company and I never took much notice of politics ‒ at the most, I read the occasional blog post. Around December last year, I began to read Live Journal [the blog of opposition leader Alexei Navalny] and listen to the news on Echo of Moscow. I voted in the parliamentary elections, but, honestly speaking, didn't expect anything good to come from it. I went to sleep, woke up, and found out the results ‒ some of which were just not possible [four parties passed the threshold; the ruling United Russia party won 49 percent of the vote]. That very morning I decided it was time to do something.
"The rally was just a rally, with rain, slush, and mud on the side. I went to McDonald's to get tea ‒ I really didn't want to catch a cold. I go back outside, and suddenly there's this crowd of onlookers wondering what's going on. And there in front of them is a security line of riot police and soldiers, driving people into the subway. They were commanded by an army colonel ‒ some guy got a shot of him on his phone. The colonel nodded at the guy as if to say, 'Get him.' I intervened, saying that he didn't have the right. The guy with the phone literally disappeared into the crowd, so the colonel ordered they take me instead. I spent two days at a police station, got 10 days from the judge, and was sent to a detention center that happened to contain Navalny and other great people. That's where the idea for Rosuznik was conceived."
Emil Terekhin, civil activist:
"A year ago, I was in the middle of editing the second chapter of a novel; I left the apartment to go to Chistoprudny, intent on returning in the evening to continue. I got home a week later, after spending seven days in detention. I don't really wish to recall it. To be honest, though, the hardships were worth it.
"I've made a lot of new friends this past year: hundreds of people, educated and well-raised, with a keen sense of justice and an active desire to change things for the better. There are still too few people in this country with the guts to say out loud, 'I don't like that.' That sort of behavior is not typical in Russia, with its totalitarian past."
Vadim Korovin, coordinator of Rosagit, a project set up a year ago to create and distribute opposition campaign materials (flyers, posters, T-shirts, etc.):
"In 2010, I graduated with a degree in advertising. I fulfilled my obligations to partners and customers, and I gradually began to engage in social activity, which ended up with me filming a documentary about the opposition movement.
"What happened after the State Duma elections was, for me, expected. Unrest was in the minds of the people, the election was the catalyst, and the people took to the streets. I assumed it would be like that. Two weeks before the election, we launched the 'Anti-carousel' project. We got some volunteer staff and took calls. We had coordinators and 'hunters' in cars with video cameras. I went to the rally on Dec. 5, but I returned soon after with my friend Georgi Alburov to finish work on the carousel video. On the night of Dec. 5-6, we went to the detention center where Navalny and Yashin were being held.
"It would be great now to get in touch with people who weren't at the rallies but who want to see some change. Yes, the street protest has abated. But the courts have not become more honest, the police still mistreat the people, and prices are still on the rise. People are a bit disorientated. Our new project is called 'Citizens of Russia' ‒ its purpose is to engage and activate the public. It is a permanent school of workshops and lectures on various topics. Want to talk to the police on equal terms? Come to one of our lectures and find out about your rights. Want to know how much utilities should charge? Come and we'll help calculate the costs. That's what we're about, and we're going to carry on."
This article is abridged and first published in Lenta.ru.
All rights reserved by Rossiyskaya Gazeta.