Snowfall blocks miles of the Moscow-St. Petersburg highway for days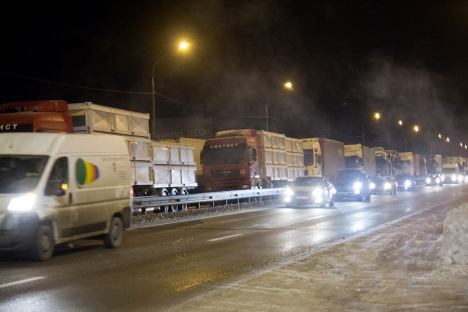 Last weekend a heavy snowfall resulted in a gridlock on the highway connecting St. Peterburg and Moscow. Source: ITAR-TASS
Despite official statements that the 124-mile jam on the M10 highway between Moscow and St. Petersburg is over, drivers report that they are still stuck in the monster traffic jam that formed on Friday, Nov. 30.
Last weekend, a fourth of the route connecting Moscow and St. Petersburg became heavily congested with traffic, following a heavy snowfall that saw the average monthly precipitation descend in just a couple of days. Despite the weather forecasts, public services were unprepared, says Kommersant. Some drivers have spent up to three days in traffic.
On Sunday morning, Dec. 2, the Emergency Situations Ministry reported that traffic on the highway had stabilized — but eyewitnesses suggest otherwise.
"We are still where we were at 14:30 (2:30 p.m.) last Friday. There are no rescue vehicles. It's all a con. They say they've done everything, but we are still stuck here," one driver told the Russian News Service on Sunday.
Gridlock began to take hold on Friday evening, Nov. 30. Due to the large accumulation of snow and ice and the lack of sand or salt on the roads, several trucks were unable to ascend a steep climb on the M10. As a result, two trucks blocked the two-lane highway, reports RIA Novosti.
The situation was compounded by the fact that the nearby city of Tver — located just off the M10 highway, immediately outside Moscow Region — was also blanketed in snow. On Friday, heavy trucks (some of which regularly used Tver as a bypass route) were denied entry into the city while the roads were cleared of snow. This caused traffic on the M10 to slow even further.
On Sunday, Transport Minister Maxim Sokolov ordered that the congested route be relieved by the start of the week, which the Emergency Situtaions Ministry reported done Monday morning. RIA Novosti conveyed the statement to drivers on the M10:
"The Tver bypass route is closed, and we're stuck... Four hours now. Called the MES, they told us a truck broke down somewhere and can't be towed. I don't know what's going on, but I've been on the radio with other drivers. They say there's a 40-km (25-mile) snarl-up," Alexander Tolstoy told RIA Novosti over the phone.
In total, around 4,000 vehicles were stuck in Tver Region, according to Lenta.ru. Kommersant reported that subscribers did not get their weekly editions of Kommersant-Dengi and Kommersant-Vlast: The truck carrying the publications was one of those caught in the jam.
Eyewitness Lyobov Solnechnaya, who left Moscow for St. Petersburg on Monday afternoon with her family, told RIA Novosti that they hit traffic just after Tver.
"We drove through Tver but didn't make it as far as Torzhok; we've been stuck for two hours. We checked all the reports; they said traffic was moving at 50-60 kilometers per hour (31-37 mph). So I decided to take my child by car, but now we're trapped. If only someone had said something. If we'd known, we wouldn't have come this way," Solnechnaya said, complaining to the news agency.
Minister of Emergency Situations, Vladimir Puchkov, hurried to help drivers stranded on the road: He flew by helicopter to St. Petersburg, Novgorod and Tver regions to monitor the progress of the snow-clearing operation, as well as to ensure that "all essential measures are taken, and all stranded people are properly supplied, with particular regard to heating and hot meals."
Drivers complain that the aid operation is very slipshod, reports Kommersant. "In fact, the officials are lying," said the head of the Interregional Trade Union of Professional Drivers, Alexander Kotov. "There's no fuel, pasties, or meals on the road; we're still stuck as we were three days ago." Moreover, roadside cafes have tripled their prices. Many drivers' cell phones are dead, and they cannot reach friends and family.
Volunteers from Tver have done their best to help out. Through social networks, they organized several collection points for food, goods, and hot drinks. Local cab drivers also offered voluntary assistance. Food and warm clothing were sent from St. Petersburg to Tver by train.
On Monday, Prime Minister Dmitry Medvedev instructed that proposals be drafted to prevent a recurrence of the situation.
This article is based on reports from RIA Novosti, Kommersant, and Lenta.ru.

All rights reserved by Rossiyskaya Gazeta.