Gazprom eyes stake in upcoming LNG terminal near Chennai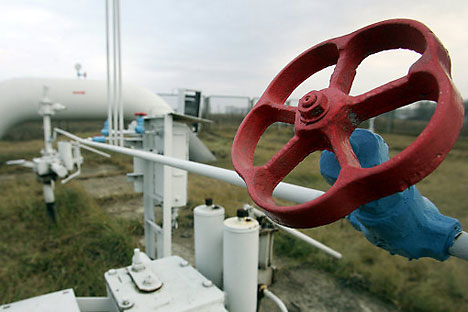 Gazprom eyes stake in upcoming LNG terminal near Chennai. Source: AP / East News
Russian state-owned gas company is believed to be in talks with Indian Oil Corp for a stake in a LNG terminal planned at Ennore.
Gazprom, which recently made its first major liquefied natural gas (LNG) deal with GAIL, is now in talks with Indian Oil Corp Ltd (IOC) for a stake in a planned $793 million LNG terminal near Chennai, Live Mint reported on Thursday. The refinery will have a capacity of 5 million tonnes per annum (mtpa) liquefied natural gas (LNG) terminal planned at Ennore near Chennai, the paper said.
"Talks are on between Gazprom and IOC for a stake in the Ennore LNG terminal. Gazprom is setting up a huge liquefaction facility at Sakhalin. It wants a gasification facility in India to cater to the growing demand here," the paper cited a person aware of the development as saying on the condition of anonymity.
IOC chairman and managing director R.S. Butola told the paper that he was not aware of Gazprom's interest but didn't rule out a partnership. "It hasn't come to our level. We are talking to Gazprom for sourcing LNG for the Ennore project. We are open to partnerships. Whether it will be Gazprom or others has to be decided."
Gazprom signed a 20-year contract for the supply of LNG with GAIL in early October, with India due to receive 2.5 million tonnes of liquefied natural gas annually. The deal could pave the way for a slew of similar natural gas contracts with other Indian companies.
Gazprom signed memorandums of understanding with four Indian partners in the summer of 2011: GAIL, Gujarat State Petroleum Corp, Petronet and Indian Oil Company Ltd. The total volume of potential LNG supplies was estimated at 10 million tonnes (around 13 billion cubic metres of natural gas) at the time.
India may become a more attractive partner for Russia, because it wants to buy LNG. However, the problem is Gazprom currently produces liquefied natural gas only in one plant in Sakhalin, which has a capacity of just 10 million tonnes. And all of that gas is already accounted for.
All rights reserved by Rossiyskaya Gazeta.