Russian establishment newspaper steps up its collaboration with China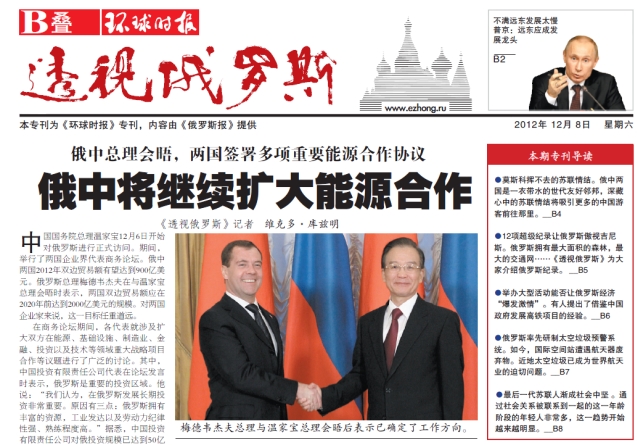 Rossiyskaya Gazeta (Russia) and Global Times (China) will launch a special monthly supplement about Russia. At the end of November, Rossiyskaya Gazeta and Global Times (Chinese edition) signed a cooperation agreement in Beijing. According to the agreement, Rossiyskaya Gazeta and Global Times will launch a monthly section entitled "Russia Insight".
"Russia Insight" in Chinese will be distributed inside the Global Times on last Saturday of each month in 17 regions of Mainland China, including Beijing, Shanghai, Tianjin, Chongqing, Heilongjiang, Liaoning, Jilin, Shandong, Jiangsu, Zhejiang, Fujian, Guangdong, Sichuan, Hainan, Inner Mongolia, Xinjiang and Tibet.
The first issue of Global Times containing the 8-page "Russia Insight" section will be released on Dec. 8, while the next issue is scheduled for Dec. 22. "Russia Insight" will appear on a regular monthly schedule in 2013.
"Russia Insight" is geared toward a general-interest Chinese reader and will feature texts on Russia's domestic political and economic situation as well as activities in the fields of business, culture, education and science. It will also highlight bilateral ties between Russia and China. "Russia Insight" readers can find the latest news and special reports about Russia at www.ezhong.ru.
Rossiyskaya Gazeta is one of Russia's leading daily newspapers and is the Russian government's paper of record. It has a total circulation of more than 185,000 copies daily and 3.5 million copies weekly.
Global Times (Chinese edition) is a popular Chinese daily newspaper owned by the government publishing house People's Daily.
All rights reserved by Rossiyskaya Gazeta.