Dressed for success
Road to the NHL: From Nizhnekamsk to Edmonton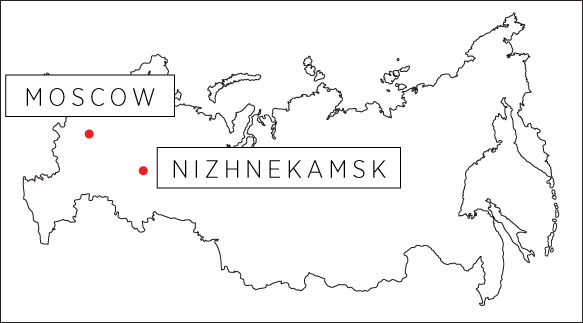 BORN October, 6, 1993 Nizhnekamsk, Russia
HEIGHT: 5 ft 10 in
WEIGHT: 170 lbs
CONTRACT FOR 2012/13 SEASON:
$925,000
CAREER: Edmonton Oilers (NHL), Sarnia Sting (OHL), Reaktor (Nizhnekamsk), Neftekhimik (Nizhnekamsk)
His profile on Facebook
His page on Twitter
Yakupov started his career in the Russian Minor Hockey League (MHL) with his hometown team, the Reaktor Nizhnekamsk. In the 2009-2010 season he scored four goals and two assists in 14 games. In 2010, Yakupov was selected second overall by the Sarnia Sting of the Ontario Hockey League (OHL) in the 2010 Canadian Hockey League Import Draft. He played in 69 games, scoring 49 goals and adding 52 assists.
In October 2010, Nail was named OHL Rookie of the Month. Towards the end of the 2010-2011 season, Yakupov was named both the OHL Rookie of the Year and CHL Rookie of the Year. Nail also played for Russia at the 2011 Under-18 World Junior Championship (WJC), with six goals and seven assists in seven games.
In the 2011-2012 season, Yakupov played in only 42 games, because of injuries sustained during the 2012 Under-20 WJC.
Nevertheless, Nail was rated the top North American prospect by Central Scouting, prior to the 2012 NHL Draft.
He became only the third Russian player in draft history to be picked first overall in the first round (the first two were Ilya Kovalchuk in 2001 and Alexander Ovechkn in 2004). Yakupov was finally drafted by the Edmonton Oilers, after he went through 18 interviews during Combine Tests in Toronto.
In his own words
About himself
"I always look good. It's not a problem for me. I just need a few hours to rest and I'm good to go. My dad and my family taught me this – no matter how difficult it is, you have to do it with a smile. If you're in a good mood, it's easier to get stuff done."
About the media
"My agent also tells me what I should say in different situations. Eventually I learned it. You have to be prepared for an interview. You have to know what to say and when to say it."
Famous for
A pure goal-scorer
Nail Yakupov is considered the best, pure goal-scorer from the 2012 NHL Draft. His successful gameplay places him in the field of all-time best rookies in OHL history.
Despite his small size, Yakupov plays extremely well against bigger opponents.
Personal
Tatar origin
Yakupov is an ethnic Tatar from the Republic of Tatarstan, which is part of Russian Federation. His favorite food is traditional Tatar cuisine, including vak-belyash, chuck-chuck and soups with uch-pochmak.
All rights reserved by Rossiyskaya Gazeta.