Russian homebuyers chasing sun in the Gulf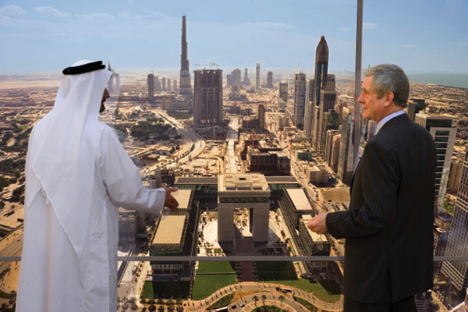 Although investment interest in the United Arab Emirates real estate has peaked, Russians are still the fifth-most active buyers of homes and apartments in the sunbaked country. Source: Getty images
Although investment interest in the United Arab Emirates real estate has peaked, Russians are still the fifth-most active buyers of homes and apartments in the sun-baked country.
Six months of winter and three more months of slush can drive anyone crazy, complains housewife Svetlana, who recently convinced her husband that they needed to buy a residence in a warmer climate and is now researching numerous websites selling real estate overseas. "We would like to own an apartment or a small house where we can hide from the Russian cold for at least a month, but without paying five-star hotel prices for it," she said of her plans.
Until recently, Svetlana had been dreaming of Egypt, especially as the resort town of Hurgada had some budget choices to offer. However, the unrest that followed the toppling of former president Hosni Mubarak's regime has cooled her interest in pyramids and pharaohs. Her husband has also started making more money, allowing them to start looking into what's available in the UAE.
The Arab world is now the fifth-most popular destination for Russian real estate investments, and for Russians interested in Arab real estate, the UAE is the top pick, according to Yelena Yurgeneva, director of Knight Frank's Premium Real Estate Department in Russia and the CIS.
"Even in the crisis years of 2010–2011, this destination not only attracted interest but also generated actual sales," she said.
Yurgeneva explained that it is mostly residents of large regional centres, such as Novosibirsk, Yekaterinburg and Krasnoyarsk, among others, that are showing an interest in the Emirates. In her experience, a typical buyer is the owner of a medium-size business who is considering a managed apartment in the Dh3-7 million ($1–2 million) price range that would generate an investment return from rent.
"Conventional wisdom is that the Dubai market is attractive from this standpoint. But it's worth noting that the time of obscene profits is over, and Dubai prices often show moderate growth, rather than sharp jumps," she added.
Dubai in particular was a hit with Russians as recently as the mid-2000s. Major Russian companies such as Gazprom and LUKoil were scooping up real estate in the Emirates by the floor. Interest in UAE real estate has cooled since, although it has remained sufficiently strong. According to official data, Russians bought around Dh2.03 billion ($553 million) of local real estate in 2011, and $690 million in the first10 months of 2012.
Currently, Russia is among the top five countries whose citizens are investing in UAE real estate, based on data from the first eight months of this year. India, Pakistan, the UK and Iran fill out the list. Russian investments in real estate are significantly higher than investments in UAE-based businesses. According to Russia's Ministry of Economic Development, Russians invested Dh161.6 million ($44 million) in the local economy in the first half of the year, mostly in wholesale and retail trade.
Although the UAE still tops the list of investment choices for Russians, interest in Arab real estate in general is gradually ebbing, according to Aforex analyst Narek Avakyan. Business activity and construction are slowing down in the Arab world. Real estate prices in the Emirates have practically come to a halt, suggesting the industry is stagnating. "Until everything stabilises completely in the global economy, don't hold your breath for a return of the Arab countries' construction boom. That's why Russian demand for real estate in the UAE, as well as in other traditional regions, is unlikely to grow in the next few years," Avakyan said.
Shopping spree
In general, Russians' demand for overseas real estate has exploded during the past two or three years. This is mainly because at times of economic instability, liquid properties are believed to constitute a reliable asset for the protection of capital. This primarily concerns mature and transparent real estate markets with understandable processes such as the UK, Switzerland, Austria or France, Yurgeneva noted. Nevertheless, Russians are willing to look at less mature markets.
Konstantin Kovalyov, managing partner of the Russian Union of Engineers, said that demand for foreign real estate in general among Russians is growing quite fast. He pointed out that the number of buyers of Spanish real estate on the Costa Blanca is growing, because prices there have been falling. He also noted that because of the instability in the European markets, Russian investors have been flocking to London, which guarantees them stability, asset protection and a steady annual appreciation (particularly in the centre) of 10 percent on average plus a stable rent income.
Now that prices in Europe have become attractive, many Russians are finding it more interesting to buy a holiday home on a distant coast than to pay several times more for a small house in the countryside around Moscow. Some buy centrally located apartments to rent out, while others may want commercial space for business. As there are always a lot of tourists by the sea, demand is guaranteed.
All rights reserved by Rossiyskaya Gazeta.