Authorities come up with roadmaps for business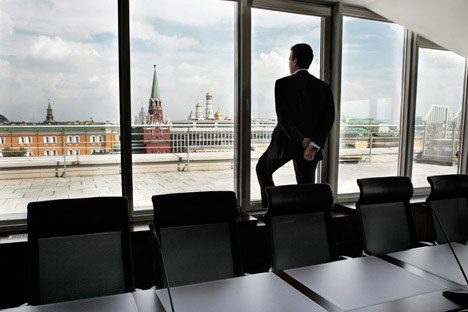 The Russian government has launched 22 roadmaps designed to transform various sectors of the economy. Source: Getty Images/Fotobank
A push to simplify bureaucratic procedures will improve the investment climate.
"People say there are no reforms in Russia, but it simply isn't true," says Marcus Svedberg, chief economist at East Capital, Russia's largest regulated investment fund.
In fact, the government has launched 22 roadmaps that are designed to transform various sectors of the economy.
Nikolai Petrov, an analyst with Carnegie Endowment, has dubbed this "Putin's NEP" – the New Economic Policy Lenin introduced that saw private enterprise flourish.
"For Putin, this is evidently his last chance to get on top of a situation which is objectively not going his way. And if he does not take advantage of the moment now, he will not have such an opportunity again," says Petrov.
Despite its poor investment image, the Kremlin has already put several successful reforms in place.
The banking sector was transformed by reforms launched in 2004, while the power sector was successfully privatized in the middle of the last decade, attracting billions of dollars of investment as a result. And comprehensive domestic capital market reforms launched in April 2008 will culminate at the start of next year, when Russia's securities markets are hooked into the global financial system.
But a new pragmatism has crept into the efforts to re-engineer the Russian economy that are aimed at making life easier for the small businessman, as well as for the international investor.
In February this year, President Vladimir Putin called on the administration to raise Russia's place on the World Bank's Doing Business ranking from 120th place to 50th by 2015 and then to 20th by 2018. Indeed, the very first thing he did after his inauguration as president in May was sign a decree to make it easier to obtain construction permits – a key variable in the World Bank's rating.
In the World Bank's latest ranking, released in October, Russia has already improved its placing to 112, as the first reforms begin to bite.
"While many changes are relatively minor, we believe that [the roadmaps] add up to a more positive environment for investors," says Kingsmill Bond, chief Russian strategist for Citi in Moscow.
Russia does surprisingly well in some aspects. It ranks 11th out of the 185 countries polled for contract enforcement, in stark contrast to its reputation for lawlessness. And this year it did particularly well in tax administration, rising from 105th to 64th, overtaking America in the process.
Documentation requirements were slashed and the whole process was moved online: the number of Russians who filed tax returns via the internet has soared to 75 percent, from 10 percent in 2000, according to the Federal Tax Service.
However, Russia does less well in many other crucial areas.
Although Putin acted swiftly to launch reforms for the construction industry, Russia remains 178th in terms of the ease of gaining construction permits and is the second-hardest place in the world in which to get a factory connected to the mains grid (184th).
Especially damaging is the inefficiency of the customs service (162th). Economic Development Minister Andrei Belousov said, following the release of the ranking: "Customs remains a bottleneck for our entire economic development."
But Belousov was not downhearted, because the reforms are only just starting to kick in; those for construction, customs procedures and connections to electricity grids will not be implemented until 2013.
"The roadmaps really only began to be implemented in the second half of this year," says Belousov. "Thus we expect the main impact to be next year and [the year after]."
All rights reserved by Rossiyskaya Gazeta.