Russian Startup Rating presented at TechCrunch Moscow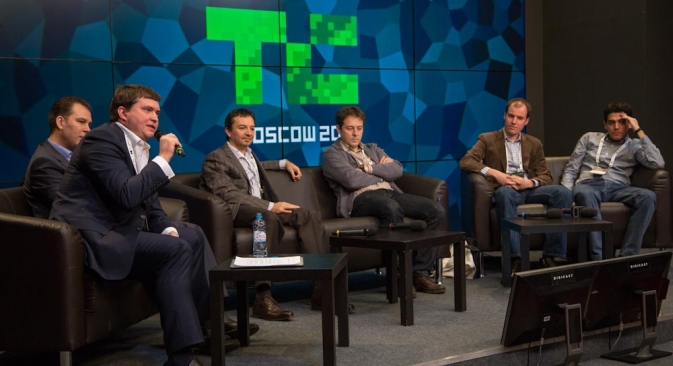 TechCrunch Moscow 2012, organized by Digital October technology center, in association with the influential IT web publication TechCrunch. Source: Press Photo
An assessment of Russia's fledgling businesses premiered at the third TechCrunch conference held in Moscow. Eighty percent of Russia's venture capital investors were in attendance, and 30 percent of the startups presented at the conference received investments. The new rating project was praised as a useful tool for foreign investors and a promoter of Russia's high-tech market.
On Dec. 10, the Russian Startup Rating prepared by Digital October, PwC and Russia Beyond the Headlines (RBTH) was officially presented at TechCrunch Moscow 2012. The event was organized by Digital October technology center, in association with the influential IT web publication TechCrunch.
Russia's top-five IT startups are LinguaLeo, Zeptolab, CentroBit Agora, AdEasy, and Zingaya. The top-five high-tech, biotech and medicine startups are Displair, RRT, Computer Vision Systems, KPG-01 plantography complex and Lactocore.
"It is helpful to know what we have: the project has promoted a more serious attitude toward Russian startups, encouraged them to participate in the conference and provided good media coverage. We know how challenging it can be to assess a startup; so the rating will definitely help investors. If your startup has a high rating, it can help you a lot," said Digital October CEO Dmitry Repin.
"This project is designed not only for foreign startuppers who will be genuinely interested in the success stories of their Russian counterparts, but also for investors looking for promising startups to support and for the broad audience, who will find out that Russia is not only a resource-based economy but also a country that can effectively compete with its peers on the high-tech market," said Vsevolod Pulya, RBTH executive director for online products.
According to Repin, the conference was attended by around 80 percent of Russian venture capital investors and numerous business angels. "I guess that all of the startups present enjoyed support, one way or another. About 30 percent of them have received venture investments from institutional investors," said Repin.
"We have put together about 50 contacts; we have made appointments with six investors, and another 21 have expressed an interest in further collaboration. Furthermore, we were pleased to see that, because everyone was aware of the busy program of the event and prepared well, no time was spent on idle talk. At the same time, the startuppers were at ease presenting their projects. The investors were ready to listen," said Ivan Kochetov, founder of Promise Up, a startup developing an application that deals with outstanding commitments using financial methods.
This was the third time that TechCrunch was held in Moscow. This year, the conference was opened by Digital October's general director, Dmitry Repin, Mike Butcher of Europe's TechCrunch and Edward Shenderovich of Kite Ventures.
"The level of the event and your interest in entrepreneurship and technology startups is what really sticks out," Mike Butcher said at the beginning of the program, complimenting the organizers.
Edward Shenderovich then shared his memories of his first pitch: "My first pitch was in San Diego. It was a disaster. After the presentation, one of the venture capital partners came up to us and said, 'You have got a crappy company, but we like you a lot. Can we offer you some money?' I recollect this story every time we discuss projects with our partners. 'We are interested in not only your ideas and figures; we are interested in you, because there will be nothing without you,'" Shenderovich said.
"This year's topic is 'War and Peace,' so get ready for battle!" said Repin, concluding the opening ceremony and giving the cue for startups to begin fighting for investors' money. Forty-four projects were involved, representing a variety of industries – tourism, new communications, and social networks.
One of the few female competitors, Ekaterina Konyushkova, who presented the Allinway project, said: "This is our first experience of making a pitch, and we have drawn conclusions about making presentations to the public and investors. We found the best way to speak about the project and how to bring its value home to investors. We have met with many interesting people – potential partners that would be interested in working with us – and we also met with potential users. We were pleased to see people coming up to us with the words 'So, what makes you different?' and leaving with the words 'That's a cool idea; we're looking forward to your mobile application/functionality. Good luck!'"
The second day of the conference featured not only a startup battle but also panel discussions on travel, fashion, video, and new advertising trends. Panel guests included Sergey Fage of Ostrovok.ru, Oskar Hartmann of Kupi-Vip, Anna Znamenskaya of Tinkoff Digital, Alisa Chumachenko of Gamesight and Mikhail Lyalin of Zeptolab.
Visitors also had an opportunity to meet all the startup organizers in person (most of the creators presented their projects personally at the event). The day ended with a battle of startups, which was won by excursiopedia.com, a project facilitating travel planning.
All rights reserved by Rossiyskaya Gazeta.