The hierarchical system of buying New Year presents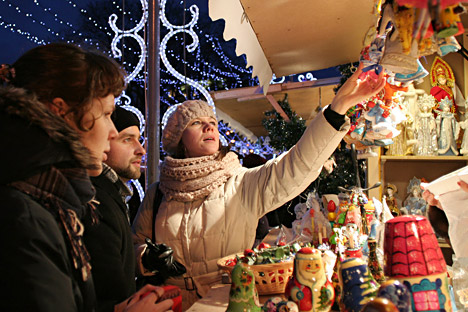 The hierarchical system of buying New Year presents. Source: PhotoXpress
Soviet Champagne and a box of chocolates for the grown-ups and a box of sweets for the kids – that's the standard New Year gift for Russians when you don't know what to give. But there are some other options on offer.
What's more memorable about New Year, the joy of receiving gifts, or the hassle of buying them? You have to buy presents for everyone – your nearest and dearest, your chums, the boss, and all your colleagues. The biggest headache is that there's no one-size-fits-all present, so you get all bent out of shape trying to find something for everyone, whilst avoiding the social faux-pas of giving an unsuitable gift. The answer is to come up with a strict New Year hierarchy and put people in priority order for gift giving. Once you've done that, it's much simpler to work out what to give them.
At the top of the gift-giving tree, usually, are those closest to you: the husband, the wife and the kids. Spouses tend to give each other gifts for household chores: a set of pots and pans, an electric saw, maybe even something related to their interests, like a tennis racquet, or some kind of hunting weapon.
Children usually pick their own presents. The main task here is for parents to intercept their correspondence with Dez Moroz (Grandfather Frost). Having read their letters, the moment comes for some parental moderation. Children might want almost anything – from a skateboard to a railway set that fills half the room – but in reality, they'll get what their parents can afford. In any case, the one thing they would get for sure is a box of chocolates.
Next down the pecking order are lovers and mistresses – assuming there are any, of course. Here the choice of gift is more dependent on sheer egoism. The shiny wrapping here often conceals naughty underwear or "toys for grown-ups," the prelude to fun and games that even the giver will enjoy. Of course, there are cases when the gift runs as far as a fur coat, a trip to some sunny destination or even a car, but this is conditional on the financial situation of the giver at the time.
Now we have to look after the boss. They may well rank below lovers or mistresses in the food chain, but we can't afford to relax for a second when choosing some amenable gift here. Diplomacy is our watchword. Of course, it must not look like a run-of-the-mill kind of present that will just go straight into the pile of other such presents and brings no benefit to its donor whatsoever. On the other hand, going over the top might evoke accusations of flattery. Very often, groups of mid-rank employees will get together when buying the boss a gift, while only more senior staff will buy them an individual present. A nice statuette for the desk or a picture for the office wall will do here, or perhaps some high-end stationery?
You can get something similar for business partners – taking care, of course, to have the thing engraved or accompanied by something clearly indicating who it came from. This ensures that the recipient has a permanent reminder of who presented it, and to whom he owes a favour.
Work colleagues come at the bottom of the pile and get the dullest gifts. A small figurine showing the Chinese symbol of the year, some champagne, sweets, a souvenir mug… that kind of thing. The range of goods available in "everything-for-a-dollar" kind of shops makes shopping simpler here. But even here things aren't done and dusted. You get situations where someone gives a colleague a gift and gets nothing in return, because they didn't figure in the other's New Year hierarchy. The discomfort of such situations can drag on until the following New Year. By that time, the Scrooge has been crossed off the other's present-list. But Scrooge, seeking to make up for last year's error of judgement, then makes an extravagant gift, leaving the tables turned uncomfortably in reverse.
"In general, people are buying gift mugs, little statuettes and serpent fridge-magnets. Soft toys go well, and we had one person buy a 200-euro knight's sword yesterday. But most present-buying only gets going in mid-December, and runs right through to New Year. On New Year's Eve, the place goes ballistic. They'll grab anything that isn't nailed down," says Natalya, a sales assistant in a gift shop.
Even though New Year's gifts appear in shops a month before the holiday itself, the main boom occurs only in late December. It seems that people get themselves sorted out with their gifts at the last moment, in order not to inconvenience those who got their act together earlier.
All rights reserved by Rossiyskaya Gazeta.