Galina Vishnevskaya, the great Russian opera singer, died on December 11, aged 86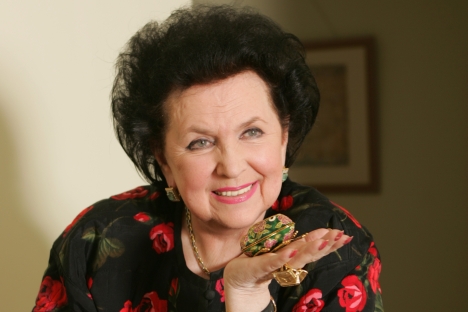 Galina Vishnevskaya, the iconic Russian opera singer. Source: ITAR-TASS
Vishnevskaya was known for her own accomplishments as well as those of her husband, Mstislav Rostropovich.
Galina Vishnevskaya, the great Russian opera singer, passed away on Dec. 11. She was 86.
Vishnevskaya was born Galina Ivanova in Leningrad in 1926, and lived in the city through the entire siege. She remembered the experience – the hunger, cold, desperate privations, and service in an anti-aircraft battalion –in starkly vivid detail in her memoirs.
Towards the end of the war, she began singing in a choir, and then became a soloist with Leningrad Regional Operetta. During the 1950s she sang briefly in "estrada" variety performances, and in 1952, she was accepted in the Bolshoi Theatre's apprenticeship program, where she relentlessly trained her lyric-dramatic soprano voice. Opera is an intensely demanding genre – it demands a naturally beautiful voice that has been highly trained by a skilled teacher.
Additonally, opera singers are expected to listen to music, read literature, deploy skilled stagecraft, and have a wide range of interests.
As befits a true musician, Vishnevskaya never stopped studying and training. She performed with all the great conductors of her era, including Herbert von Karajan and Alexander Melik-Pashaev; she sang alongside the legendary Russian tenors Lemeshev and Kozlovsky and she performed with foreign stars like Placido Domingo, Dietrich Fischer-Dieskau and Birgit Nilsson.
Source: RIA Novosti, ITAR-TASS. Music: Tatiana's aria, "Eugene Onegin" opera, Peter Tchaikovsky.
Vishnevskaya sang mostly Russian and Italian roles, taking on, for example, Tatiana in Tchaikovsky's Eugene Onegin, and the title role in Verdi's Aida, but her repertoire of roles was enormous.
In 1955 she married the cellist, conductor and composer Mstislav Rostropovich after a whirlwind four-day courtship. They lived together for 52 years, until his death in 2007. They performed together – at first he accompanied her at the piano, and then conducted her opera performances around the world. Together they supported the disgraced Alexander Solzhenitsyn during the 1970s.
In 1974, Vishnevskaya and Rostropovich left with Solzhenitsyn on a wide-ranging foreign tour, on the advice of the Soviet authorities. The government was unhappy with their support of the dissident, but were reluctant to openly persecute such well-known stars of the classical music world, so they let it be known that the couple should make a quiet exit from the country.
Vishnevskaya's sparkling career continued abroad, with performances in the United States and throughout Europe. She staged operas as a stage-director, and openly associated with Russian emigrés. In 1978, both Vishnevskaya and Rostropovich had their citizenship revoked by Governmental decree, "for systematic actions calculated to damage the prestige of the Soviet Union."
Their citizenship was restored in 1990, near the end of the perestroika period and in the 1990s, Rostropovich and Vishnevskaya returned to Russia. In 1991, Rostropovich participated in protests for freedom and they both gave concerts. In 1993, Vishnevskaya retired from opera and began offering intensive training for young singers.
In 2002, the Galina Vishnevskaya Opera Center opened in Moscow, where aspiring young performers receive comprehensive instruction in a full range of cultural studies, performances and vocal skills. The center marks its 10th anniversary in December.
Two weeks ago, Vishnevskaya was awarded an Order of Merit for the Fatherland, Grade 1. Galina Vishnevskaya received many such decorations in her career, but the medal of which she remained proudest was the one she was awarded just after World War II – "For The Defense Of Leningrad."
All rights reserved by Rossiyskaya Gazeta.