Russian Kitchen: Pickled Cabbage & 100 delicacies before doomsday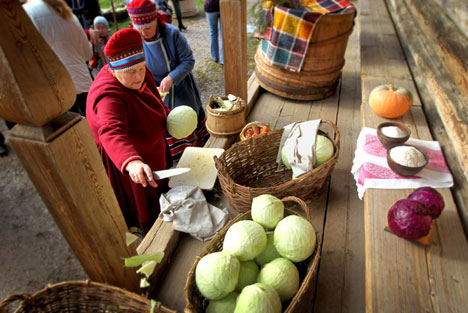 Russian Kitchen: Pickled Cabbage. Source: RIA Novosti
If the world is coming to an abrupt end, it's important to try out as many delicious new food items as possible. Pickled cabbage is a good start.
According to the Mayan Calendar, the current world cycle began on August 13, 3114 BC and ends on December 21, 2012. Some sources say that the world will come to an end on that date but the others believe that a new era will begin. Since we don't know exactly what will happen on that date, let's not waste our time and try so many tasty things that we haven't tried yet.
Russian gourmands from Kuking.net have chosen 100 food items that you have to try before the end of the world. See the complete list of the items here.
Among those 100 items, there are few Indian dishes that Russian foodies should try: Fried Bananas (Pazham Pori in Malayalam), Chicken Tikka and Paneer. I am just wondering how they could miss Appam and Stew, Chole Bhature, Indian sweets, Cheese Naan and Paper Dosa?
I am very proud to say that I have tried most of the food mentioned in the list, thanks to my extensive travelling in the USA and the variety of food offered there.
Some of the delicacies that I haven't tried are Pineapples in champagne, Wine made of Dandelion, Kobe Beef, Durian, Snake, Grass Hoppers, Prickly Pear, Birds Nest Soup, Black Truffle and snails. I still have several days to try at least few of them.
There are not many Russian dishes in the list (could it be because the list is created by Russians and they have tried everything in Russian cuisine?) The dishes that were mentioned are Borsch (Ukrainian/ Russian Beetroot soup) and Pickled Cabbage – "Solenaya Kapusta" (pickled cabbage or sauerkraut). Since I have already shared my Borsch recipe, it is very logical for today recipe to choose pickled cabbage.
It is believed that pickled cabbage was introduced to Europe in its present form a thousand years ago by Genghis Khan after plundering China. The Tatars took sauerkraut in their saddlebags to Europe. It became very popular in Eastern Europe, Germany and France. Contrary to popular belief, sauerkraut is not a national German dish, and is actually eaten mostly in Russia, America and France.
We pickle a lot of cabbage for the winter in Russia; my family of four would have pickled 20-30 litres of cabbage that would last till spring! Sauerkraut is made by a process of pickling called lacto-fermentation. Fully cured sauerkraut lasts for several months in an airtight container without refrigeration. Sauerkraut offers remarkable health benefits. The fibre and lactic acid bacteria improve digestion and promote the growth of healthy bowel flora, protecting against many diseases of the digestive tract. It's low in calories, enzyme-rich and high in vitamin C. Many sailors died from scurvy caused by a lack of vitamin C in their diets until the 18th century, when explorer Captain James Cook discovered sauerkraut was an effective remedy for the disease.
To make real sauerkraut takes time. I would like to share with you the easier way of pickling cabbage which tastes slightly different from the original but would be more appealing to the taste of Indian foodie.
Ingredients: (For about 1.5 litres of pickled cabbage)
1 medium cabbage
2 carrots
100 ml sunflower oil
3 tbsp vinegar
2 tbsp sugar
1.5 tbsp salt
0.5 litres water
6 whole black peppers
2 bay leaves
6 cloves of garlic, chopped
Preparation:
1. Julienne cut the cabbage or scrape it, scrape the carrot on a bigger scraper, mix with chopped garlic, put tightly into glass jar or airtight container.
2. Boil water with oil, sugar, salt, black pepper and bay leaves, add vinegar and pour over the cabbage. You have to make sure that the marinade covers the cabbage. Leave the jar in room temperature at least for 12 hour and then refrigerate.
Priyatnogo Appetita!
All rights reserved by Rossiyskaya Gazeta.