Untapped potential for Russia in Indian renewable energy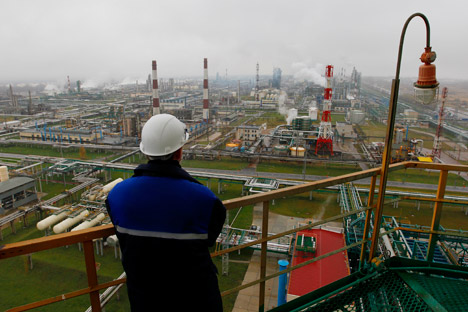 Untapped potential for Russia in Indian renewable energy. Source: Reuters / Vostock Photo
Russia needs to dip into the vast business opportunities that the now cash-rich Indian renewable energy sector throws up.
While Indo-Russian cooperation has been intensifying in a large number of diverse fields over the years, the two countries have not been able to tap full potential of cooperation in the crucial field of renewable energy. At a time when the international community is striving hard to reverse the adverse impact of climate change, renewable energy provides a clean, cheap and effective alternative.
Cooperation in the renewable energy sector will be among the talking points between Russian President Vladimir Putin and Indian Prime Minister Manmohan Singh when the former visits India on December 24. However, it remains to be seen whether this sector would get the required thrust from the two sides at the highest level when the two principals hold delegation level talks.
India investing $10 Billion per year in Renewable Energy
The most important take-away from the Russian point of view for intensifying its cooperation with India in the field of renewable energy is that India's investment in the sector has now exceeded $10 billion per year. Another strong advantage is that the Indian renewable energy programme is primarily private sector driven and offers significant investment and business opportunities.
India figures among the top five countries of the world in terms of renewable energy installed capacity and at present renewable power, with over 26 GW installed capacity, represents about 12.5 percent of the total installed power generation capacity in India. India aims to achieve about 55 GW of renewable power by 2017.
$180 Million JV in Solar Energy Sector
India and Russia have decided to embark on a $180 million joint venture to manufacture 2000 tonnes of Silicon Ingots for India's solar cell manufacturing. The project is aimed at setting up a joint venture company in Russia to source the key component required for India's fledgling solar energy initiatives. The company would manufacture silicon ingots which could be brought to India and sliced into thin wafers to make photo-voltaic cells for India's ambitious solar mission.
Top officials of RUSNANO, the nanotechnology initiative of the Russian government, and India's Department of Science and Technology have been in close touch to ensure that India benefits from the Russian nanotechnology initiatives, including in photo-voltaic.
India has just released a draft of its policy for Phase II of the Jawaharlal Nehru National Solar Mission, inaugurated in 2010 and a key component of India's National Action Plan on Climate Change aimed at establishing India as a global leader.
Since its launch, India's Solar Mission has galvanised capacity building which has risen from less than 18MW to 1050MW. Phase I comes to an end in 2013. India is aiming at generating power to ten Gigawatts in Phase II of the solar mission.
Russian Thrust on Renewable Energy
In May 2010, Dmitry Medvedev, then Russian President, had announced that his government would strongly consider purchasing electricity generated from renewable energy sources to encourage development of renewable energy. Six months later, Moscow approved a US$300 billion programme to make factories and buildings more energy efficient. In late 2009, Medvedev had announced to cut Russian energy consumption by 40 percent by 2020. The government has plans for 4.5 percent of Russia's energy output to come from non-hydroelectric renewable energy sources.
However, Russia has a long way to go to realise full potential of its vast renewable energy resources and opportunities. Russia's focus has been on oil, natural gas and coal which constitute 80 percent of its foreign trade earnings.
The Global Renewable Energy Status Report 2012 reveals that renewable energy has grown to supply 16.7 percent of the global energy consumption. However, both Russia and India are lagging behind in this important sector. An intense Indo-Russian synergy here will be a win-win situation for both.
The writer is a New Delhi-based journalist-author and strategic analyst.
All rights reserved by Rossiyskaya Gazeta.