Around 40 people were arrested as a result of Saturday's rally in central Moscow, which brought together about 500-700 people on Lubyanskaya Square, according to police. Meanwhile, about 26 protesters were detained in St. Petersburg. Some politicians claim that the opposition failed to send a clear message to the public.
Nearly 500-700 people gathered near the Solovetsky Rock monument on Lubyanskaya Square in central Moscow on Saturday, Nov. 15, police say. Meanwhile, opposition leader Sergei Udaltsov insisted there were 5,000 participants.
"Despite numerous warnings by police that the event had not been legally cleared, about 500 people have gathered on the square, at least half of whom are journalists and bloggers," the Moscow city police department told Interfax, adding that opposition activists Alexei Navalny, Sergei Udaltsov, Ksenia Sobchak and Ilya Yashin have been detained for organizing an unsanctioned event.
"Udaltsov wrote on Twitter that he had been taken to the Tekstilshchiki police station, while Yashin told Interfax over the phone that he and Sobchak were in a police vehicle parked near Red Square.
Yashin reported that the police vehicle was not heated and that the air was "quite cold but tolerable in it."
Navalny, after arriving at the square in the company of his supporters, approached the Solovetsky Rock monument and was detained by a special police task force there.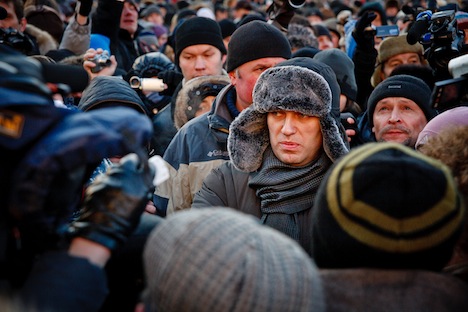 Russia's opposition leader Alexey Navalny (in the middle) attended the Freedom March. He was detainded by police and, then, released. Source: Ruslan Sukhushin
Navalny himself wrote on Twitter that he was "simply snatched out of the crowd."
"This is a traditional and very unoriginal tweet from a police vehicle. Absolute nonsense," he wrote.
The leader of the Russkiye (Russians) nationalist party, Dmitry Dyomushkin, was also arrested, despite his explanation that he was just an observer at the event. A police officer came up to Dyomushkin during the demonstration on Lubyanskaya Square and asked the nationalist to come to a police bus with him.
"We came here just as observers. I did say before that the nationalists wouldn't take part in 'Freedom March,'" Dyomushkin said.
Police will take measures to put an end to unsanctioned demonstrations on Lubyanskaya Square in central Moscow in the near future, the Moscow city police department announced earlier, before and during the rally.
"As people are refusing to go away and the square actually cannot hold this number of people, which threatens their security, police will take measures to prevent the unsanctioned action in the near future," the department said.
.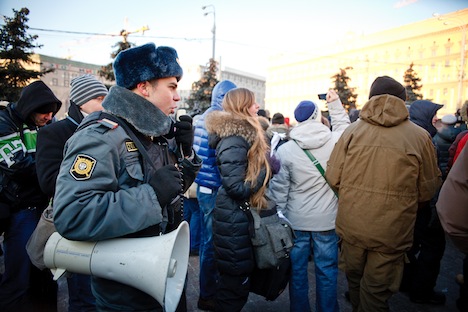 The Dec. 15 Freedom March brough together about 500-700 people in central Moscow, according to different estimates. Source: Ruslan Sukhushin.
Some of the demonstrators earlier attempted "to press on the police cordon so as to broaden the area of the unsanctioned event," said Alexei Mayorov, head of the Moscow city administration's regional security department. "However, due to the police's coordinated actions and corridors arranged for the people to leave the area, a crush was prevented. People can freely leave Lubyanka now."
The activists had white ribbons pinned to their clothes and had been crying out, "Freedom to political prisoners!" Some of the demonstrators encircled the Solovki Stone monument, shouting slogans that slammed the Russian government and calling for the release of activists arrested in connection with riots that had taken place during a high-profile anti-government demonstration on Moscow's Bolotnaya Square on May 6.
Despite the arrests, activists remained on the site and continued to yell out slogans; police continued to intervene and take demonstrators away in police vans.
Around 40 people were arrested during the demonstration and "taken to police stations for prosecution," a spokesperson for the city police authority said.
Police managed to cut the demonstration on Lubyanskaya Square short. A police spokesperson told Interfax there had been no serious incidents. He reported that some of those present at the demonstration left the scene after repeated police warnings of the illegality of the event, but that police were still forced to detain those who continued to break the law.
Opposition rallies in St. Petersburg
Meanwhile, about 26 people (some of whom were minors) were arrested during one of two opposition demonstrations in the center of St. Petersburg on Saturday. Both of these events had been permitted by the authorities, demonstrators said.
"We were detained on a bridge without being given the reason. About 26 people, amongst whom are minors, have been taken to police stations," demonstrator Nikolai Bondarik told Interfax.
The two demonstrations – one of them liberal and the other nationalist – formed separate processions that set off from the Gorkovskaya subway station for Campus Martius around 3 p.m. on Nov. 15.
The liberal column, which, according to police, brought together about 500 people and involved no unrestrained behavior, carried Russian national flags, St. Petersburg flags, and banners with anti-government slogans and appeals for "rescuing the prisoners of May 6. " Some of the demonstrators had white ribbons attached to their clothes.
The nationalist column, which followed the liberals, was about 100 strong. More than 20 of its participants were arrested for alleged violations of public order. The nationalists were carrying white-yellow-and-black Russian imperial standards and yelling out common nationalist slogans. Crowds of police, meanwhile, watched the processions go by.
Opposition at a crossroads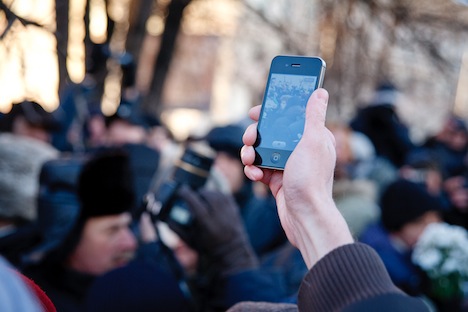 The Dec. 15 Freedom March brough together about 500-700 people in central Moscow, according to different estimates. Source: Ruslan Sukhushin.
A senior member of the ruling United Russia party claimed that the rally in central Moscow showed the "radical opposition" to be in a shambles.
"Today's event of the radical opposition under the name 'Freedom March'... was not only a failure from an organizational point of view, but also an act whereby the top brass of the opposition brought discredit on itself," Alexei Chesnakov, deputy secretary of United Russia's General Council, told Interfax.
"This opposition has lost steam," he said.
"Instead of the widely advertised victories, the autumn political season has brought the opposition a series of unpleasant but logical defeats: first, the comedy of elections for the Coordination Council; then, demonstrative moves to provoke hyped-up arrests; and, finally, multiplied senseless slogans. All this has created an atmosphere of emptiness," Chesnakov said.
He claims that the opposition failed to send a clear message to the public about what it advocates and what it protests.
"Here is the obvious result: while it had expected support running into tens of thousands, the opposition was barely able to muster a little more than 500 participants," said Chesnakov. "It would be the only correct solution for the opposition to rethink its positions and give up radical methods of street action for civilized participation in elections."
In contrast, other pundits argue that, despite its small size, the Dec. 15 opposition rally means that Russia's opposition is determined to pursue its cause.
"What we have been able to see today can be called a 'cadre division' of the opposition," Alexei Makarkin, vice president of the Political Technologies Center foundation, told Interfax.
"In the armed forces, a cadre division means not an entire division but the command, commissioned officers, and non-commissioned officers. So, here as well, the protest opposition put forward its cadre division. They are members of the protest opposition who are prepared to turn out for demonstrations in any event," he said.
Makarkin believes there are two main reasons that explain why Saturday's rally on Lubyanskaya Square in Moscow had a relatively low turnout.
"First of all, the event had not been authorized [by the city authorities]. And, secondly, the protest activity is not at its highest at the moment," he said.
Saturday's frosty weather was by no means the main factor, according to Makarkin. "Let's remember the protest action of Feb. 4, when there was harder frost than today. But that event was authorized, and the protest movement was more active as well," he said.
The story is a combined report based on materials from Interfax.
All rights reserved by Rossiyskaya Gazeta.