Scientists seek to reduce city traffic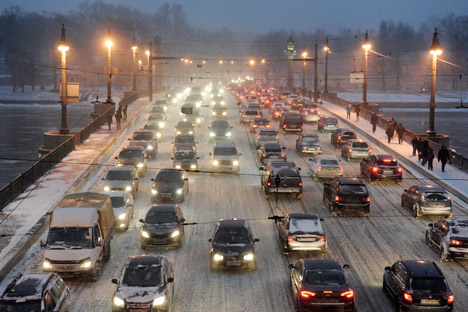 New devices and software proposed by Russia's scientists may reduce traffic in Russia's Northern Capital by 20 percent and significantly reduce the number of accidents on the roads. Source: ITAR-TASS
Scientists in St. Petersburg are working on smartcar technologies that will enable vehicles to communicate amongst themselves on the roads. This "intelligent" flow of automobiles could cut city traffic by as much as 20 percent, as well as significantly reduce car accidents.
At St. Petersburg's National Research University for Information Technologies, Mechanics and Optics (ITMO), scientists recently presented technology that aims to create an "intelligent" flow of automobiles. These innovative devices and software may one day reduce traffic in Russia's Northern Capital by 20 percent and significantly reduce the number of accidents on the roads.
"The aim is to equip public and private transportation with devices that will enable the high-speed transfer of data using FlexRoad technologies (a variety of Wi-Fi for the car industry)," said Vladimir Grigoriev, head of the Wireless Communications Department at ITMO and holder of a doctorate in technical sciences. "We are also using Mesh-net. It works without base stations by relaying a signal from one object to another. Every car becomes a communications point: the greater the number of cars equipped with it, the more stable and effective the network."
Grigoriev believes that any Petersburg resident can imagine how these "smart" systems will work: a specific group of automobiles will be able to "chat" like a group of people sitting in the same room.
"You can imagine this as an aggregate of people," Grigoriev said. "After all, we're communicating right now almost according to Mesh-net technology. We can see each other, hear each other, we can call out, give each other signals, and instantly react to what the person next to us is saying. Soon we will have interacting means of transport. They will, so to speak, negotiate amongst themselves."
In cities, the signal will travel up to a little over half a mile. The network will function reliably amongst cars traveling up to a speed of 100 miles per hour. At present, however, these devices are still being tested in Russia and are not yet available to the ordinary consumer. Interest in the technologies will likely come first from special municipal services, public transportation, traffic policemen, ambulance drivers and firefighters.
"Imagine that when a bus or ambulance approaches an intersection the light changes to green. As for the algorithm of managing individual pedestrian crossings, that is a separate story. If we want to provide clear roads for public transport, ambulances and fire engines, that is another option. Everything depends on the task at hand; then we begin to create the algorithm, the necessary programs, and develop means of relaying information," said Grigoriev.
According to Grigoriev, ITMO will present this technology, which is to be developed in cooperation with Finnish scientists, as early as next year in three regions of Russia.
First published in Russian in RIA Novosti.
All rights reserved by Rossiyskaya Gazeta.