Uzbekistan's ouster from CSTO imminent at forthcoming summit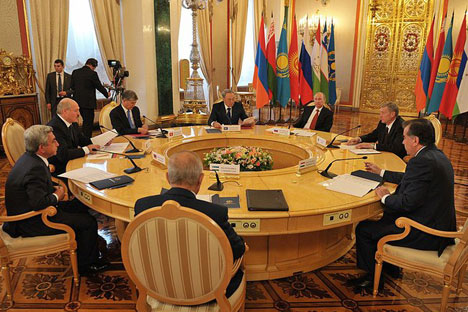 Meeting of heads of states parties to the Collective Security Treaty. Source: Kremlin.ru
Tashkent's explanation that it is suspending its membership because it gives priority to bilateral relations over CSTO in its relations with Kabul seems likely to be an alibi.
Suspension of Uzbekistan's membership in the Collective Security Treaty Organization or CSTO will most likely be approved in the upcoming summit scheduled to be held in Minsk. Though Uzbekistan suspended its CSTO membership on its own in the last week of June 2012, it remains a member of the organisation from a strictly legal point of view. Tashkent is suspending its membership of the organisation for the second time in its history.
Though Tashkent's decision to suspend its membership was not altogether unexpected, it did evoke a lot of dissatisfaction among CSTO members. Uzbekistan's decision was more surprising as it came a couple of weeks after the Russia-Uzbek summit. President Putin and Uzbek President Islam Karimov had a meeting in the beginning of June when the two leaders signed several important documents concerning bilateral relations. As expected, the Russian Foreign Ministry expressed its dissatisfaction over Tashkent's surprising and unpleasant decision that demonstrates the latter's lack of loyalty and unreliability at the least from Moscow's perspective.
Tashkent's decision in the official note is attributed to "CSTO's strategic plan towards Afghanistan." Apparently, CSTO's strategic plan for Afghanistan is not acceptable to Uzbekistan which gives priority to the bilateral relations with that country. Apart from this, CSTO's plan for strengthening defence cooperation among the member countries is also not to the liking of Uzbekistan.
Every member state including Russia can have its bilateral priority which can be above the interests of CSTO, which is after all a burgeoning regional security organisation so far. That is why Tashkent's explanation that it is suspending its membership because it gives priority to bilateral relations over CSTO in its relations with Kabul seems more likely to be an alibi.
Contradictions between Uzbekistan and most of the CSTO members emerged almost immediately after Tashkent was re-admitted to the organisation in 2005. It is worth recalling that Uzbekistan, a founder member of CSTO in 1992, had left the organisation between 1999 and 2005 in order to join anti-Moscow block GUUAM, set up with US assistance. Tashkent established a strategic partnership with Russia and rejoined the CSTO in August, 2006 in the aftermath of the Andijan incident.
However, Tashkent never participated in the organisation's activities in a full format, slowly but surely revamping its relationship with US and the West. Many observers tend to believe that Tashkent's decision is linked to its drift towards US that has promised certain privileges.
The main reason why Tashkent once again suspended its CSTO membership lies in diverse approaches to the evolvement of the organisation. Uzbekistan emphasised on extending assistance in case of aggression on one or several member-states, viewing CSTO as a guarantee against a Taliban attack against it or any other external threat. To prevent external threats to the security of the member states was the main objective when the organisation was founded in 1992.
However, subsequently the member states came in favour of shaping the organisation as a multi-functional body, which would be in charge of not only preventing external aggression but also combating non-traditional threats like terrorism, extremism, narcotics-trafficking and illegal migration. CSTO at present is virtually positioning itself as a security body for the Eurasian Union that is currently being formed. This course is definitely not to the liking of Uzbekistan.
Another bone of contention between Uzbekistan and rest of the CSTO members was the issue of its Collective Rapid Reaction Force, built in 2009 for preventing external military threats, conducting special operations against terrorists, extremists, the narcotics-mafia and liquidating consequences of natural calamities. Uzbekistan became the only member country that refused to participate in the formation of these forces even formally.
Tashkent had objections against the principles of the use of collective force, insisting on the thesis that collective force cannot be used as a military component in the CIS space and CSTO member states for resolving conflicts that would emerge among these states, since each of these states are capable of resolving internal contradictions, and CSTO rapid reaction forces could be used only in case of external aggression.
Uzbekistan had differences with other members on the issue of dispatching a military contingent to the territory of another state, stressing that its involvement is possible only in case it does not contradict the national law. Tashkent's concerns stem from its fear that CSTO rapid reaction forces could be used in the conflict between the organisation's member states. Uzbekistan, with the largest professional army in Central Asia, of late is accused of flexing its muscles on the regional water dispute against its tiny neighbours like Tajikistan and Kyrgyzstan.
It would be very difficult for CSTO to distance itself from the resolution of internal as well as inter-state conflicts among its members. CSTO's refusal to send peace-keeping forces for preventing inter-ethnic conflict in the southern part of Kyrgyzstan in June 2010 had raised questions about the efficacy and even the existence of the organisation. After all, such incidents justify the existence of the CSTO Rapid Reaction Force, which was formed at the height of inter-ethnic tensions in Kyrgyzstan. Tashkent's objection to the building of this much-needed force created such problems for its formation that it prompted Belarus President Alexander Lukashenko to expel Uzbekistan from the CSTO.
The 19th clause of the CSTO charter stipulates that a member can leave the organisation with 6 months official notice. It is expected that Uzbekistan's application to leave the organization would be approved in the Minsk summit. Though Uzbekistan's suspension from the CSTO would weaken the organisation to some extent, this would on the other hand facilitate its smooth functioning and effective development, since major decisions in the organisation are taken on the basis of consensus. However, it is unlikely that the CSTO would shut its doors for Tashkent forever Uzbekistan is known for its policy fluctuations.
Arun Mohanty is Professor, School of International Studies, Jawaharlal Nehru University and director, Eurasian Foundation.
All rights reserved by Rossiyskaya Gazeta.