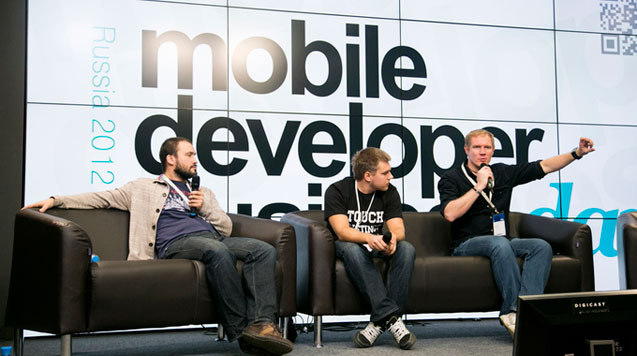 On December 14, the Mobile Developer&Business Day Russia was held at Digital October — a day dedicated to cellular technologies. This year, in addition to a professional conference of developers, the event was supplemented with a special section for people who are using cellular applications as an instrument for business and an "Developer Alley," where studios that carry out development of applications have been presented.
Developer Alley was an exhibition with stands of studios that work on the market of development of cellular applications. At the exhibition, it was possible to look at their work and discuss variants of possible partnership. For more detailed negotiations between clients and development companies, a special area for interaction was set up.
After the opening of the conference, a professional program for developers of cellular applications commence started in three halls simultaneously. Market leaders talked about their development experience in reports, master classes, and discussions.
The themes of the sections concerned various aspects of development and promotion of cellular applications — testing, usability of cellular interfaces, product development and development of applications, cellular games engines, cellular platforms, and Smart TV. Conference participants discussed how to make popular games, where to find investment in one's projects, and what new possibilities are proposed by vendors for developers. Among the companies that have confirmed their participation are Zeptolab, Mediocre, Parallels, Samsung, Playmous, Polonium Arts, UI Design Group, Redmadrobot, iD EAST, Stanfy, Studio Mobile, Ozon.ru, Marmalade, GALS Soft, and others.
The program was also dedicated to using cellular technologies to increase the effectiveness of business. Developers and purchasers of applications discussed the market of cellular advertising, marketing, and cellular payment. The event concluded with the presentation of the results of "Cellular 2012" and predictions from experts for the year to come.
For more information, visit http://2012.mdday.ru