Arms trade: Revenues rise as markets shrink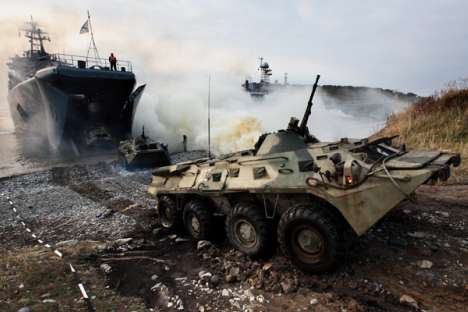 Tactical exercises on the Klerk military range with air assault units, Pacific Fleet ships, army and attack aircraft of the Eastern Military District. Source: RIA Novosti / Vitaliy Ankov
Even as Russia is about to set a new arms export record this year, the number of potential buyers has been dwindling.
When he addressed a meeting of the Federal Service for Military-Technical Cooperation in the penultimate week of December, President Vladimir Putin called on the participants to actively promote Russian-made products in global markets.
Russia's defence exports are approaching a record $14 billion, exceeding the target for the year, Putin said. He added that the outlook was promising too, as more than $15 billion worth of export contracts have been secured this year alone.
Russia's arms orders portfolio could grow thanks to the recovery of its positions in the military hardware upgrade and repair market, among other reasons. "Taking part in repairs and upgrades already means a sufficiently large volume of orders," Putin noted, adding: "Of course, Russia will continue working with its traditional partners in the military and technical sphere, but it is no less important for us to tap new markets and expand the range of products and services we offer."
This approach couldn't have come at a worse time for Russia's arms exports. As things stand, Russia is set to lose its most profitable demographic – the Middle East, a region where Soviet – and later Russian – weapons have traditionally been well received.
Russia's Centre for Analysis of World Arms Trade (CAWAT) said in a report released in mid-autumn that, among other things, the UN Security Council's sanctions against Iran, the Arab Spring and persisting instability in Syria have all weakened Russia's positions in the Middle East arms market.
"The United States, the UK and France will become the top three arms exporters to the Middle East between 2012 and 2015. With $2.94 billion (if contracts with Syria are fulfilled), Russia will rank only fifth, behind even Germany, whose defence exports are expected to reach $3.93 billion," the report said. This is after Russia used to be the third largest arms supplier to the Middle East.
According to CAWAT experts, Russia's share of the Middle East arms market will shrink to 3.45% in 2012–2015 from 8.4% between 2004 and 2011. The share of Middle East countries in the total regional structure of Russia's military exports will decrease to 8.16% over the next four years (2012–2015) from 14.4% in 2004–2011.
As usual, the United States will fill the void, which will essentially mean a monopolisation of the Middle East market. According to estimates, the United States will supply more than 66% of its projected arms exports to the region between 2012 and 2015. The success of the American arms trade has to do with the fact that a number of "mega contracts" with Saudi Arabia and other Middle Eastern countries are starting to be fulfilled.
The United States has monopolised Saudi Arabia, which is the richest market. Meanwhile, as a result of the UN Security Council sanctions, Russia has lost a very promising market in Iran; CAWAT estimates Russia's losses from wrapping up military and technical cooperation with that country at between $11 and $13 billion.
"Yemen has become another lost market for Russia as a result of the Arab Spring and continuing internal instability in the country. An arms deal worth around $1 billion was once negotiated, but now only low-value contracts can be expected," the CAWAT report said.
Given all this, Vladimir Putin admitted at the meeting that Russia was up against serious competition in the arms market: "In order to be successful in meeting this challenge, we must work preemptively, provide our arms manufacturers and developers with more opportunities to demonstrate their research and technical potential, and promote the country's latest achievements at industry exhibitions."
Russian defence contractors currently showcase their technology at around 20 major global exhibitions. Russia hosts around ten international forums each year, including the MAKS Aerospace Show, the Navy Salon in St Petersburg and an arms exhibition in Nizhny Tagil.
But such efforts are no longer sufficient if Russia wants to be a leader in the global defence industry market. According to the latest data from the Stockholm International Peace Research Institute (SIPRI), global arms sales rose 1% during the year to $411.1 billion. Russian arms manufacturers rank no higher than a modest 20th place in the global arms sales rating, well behind the established leaders of the United States and the UK.
All rights reserved by Rossiyskaya Gazeta.