A time-tested partnership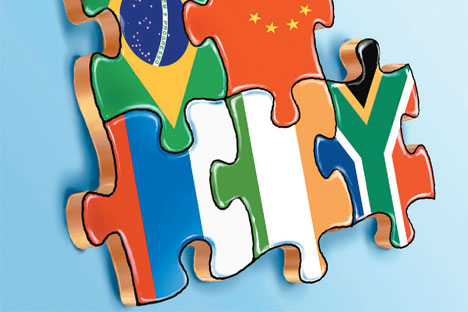 As two crucial players in international politics, whether as part of the BRICS or RIC or G-20, or even as partners, India and Russia are two poles in reshaping the global order.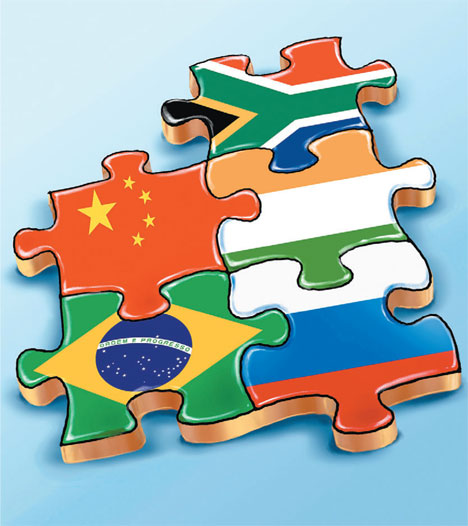 Drawing by Dmitry Divin.
This article particularly focuses on the political and strategic contents of the India-Russia partnership with particular reference to Russian Ambassador Alexander Kadakin's statements on Friday, December 21, in context of 13th bilateral annual summit in New Delhi. Significant focus has been on economic relations, which is necessary, but as this article points out political and strategic equations in bilateral relations are equally important in this evolving a multi-polar world.
As Kadakin pointed out the bilateral relationship is not confined to few sectors but is comprehensive, encompassing almost everything. In his words, "We are cooperating in various fields. I am saying from the outer space to sea bottom. Even the sky is not the limit." The wide range of deliberations that will take place between leaders of India and Russia at the summit will be watched globally as it will have wider ramifications for the rapidly changing world order.
As Ambassador Kadakin reiterated, the bilateral relationship is time-tested. Beginning since the dawn of Indian independence till date, the relations have thrived despite hurdles. Kadakin highlighted this point while bringing home the scathing reality of international politics in which the difference between friend and foe is measured how the other is useful to one's national interest. He harped on the good relationship between the two countries that thrived since Khrushchev and Bulganin visited India in 1955. He was scornful of the "newly acquired partners" who would "jump into bushes" when it comes to sharing expertise.
In this particular context it needs mention that Russia has shared its expertise with India and both have developed weapons with joint research and design. Brahmos is one of the examples of this mutual trust and cooperation. In the shifting contours of the international politics where there is surfeit of crude national interest and malnutrition of trust and goodwill, Kadakin's statement infused hope into bilateral relations and reminded that this time-tested relationship, based on trust, will continue.
As two crucial players in international politics, whether as part of the BRICS or RIC or G-20, or even as partners, India and Russia are two poles in reshaping the global order. Their collaboration and joint positions on various international issues ranging from the Middle East to Syrian crisis, from reform of international bodies to development of alternate forums of decision making, will impact the global order.
It is but natural that when Russian President Vladimir Putin visits India and meets Indian Prime Minister Manmohan Singh, both the countries will delve deep into ongoing international crises and also the future of the world. In the context of ongoing Syrian crisis, Kadakin stated "of course" both the countries will deliberate on the issue, and pointed out "When leaders of two countries meet, they discuss all burning issues." Both the countries will reiterate their common positions on various issues, and will likely emphasise on the role of the United Nations as the supreme conflict resolution mechanism, than any particular country or a group of countries.
Russia has evinced keen interest in forging closer partnership with South Asia. This emerging interest, as repeated on many occasions by Russian leaders, will not be at the cost of India. Whether it is Afghanistan or Pakistan, the two emerging hotspots in the region, both the countries will be in the radar of Russian foreign policy. Indian leadership too has displayed understanding of this emerging Russian interest. As Kadakin pointed out in the post-2014 period when foreign forces leave Afghanistan, Russia will have to play a key role in the region in bringing peace and stability. In that venture Russia will be interested to work with India, Pakistan, Afghanistan and countries of Central Asia. This venture will be in the interest of all these countries including Afghanistan, which will likely lapse into the old era of dogmatism and violence unless these countries come together and develop a common framework to address this vexed issue.
Russia's inroads into South Asia, and the countries' involvement in regional organisations like the Shanghai Cooperation Organisation, may not be detrimental to bilateral relations but may help further regional peace and stability, and promote mutual interests.
Russia may be interested to play a friendly role in developing trust between India and Pakistan. Kadakin pointed out Russia is ready to play "whatever possible" role to improve Indo-Pak ties. In the past, Soviet Union had played a key role particularly after the Indo-Pak war of 1965, to broker peace in Tashkent between the two warring countries. Leaders of India and Pakistan had highly appreciated the Soviet role, particularly its Prime Minister, Alexi Kosygin, in nudging the two countries to sign agreement of peace. Russia's already good relationship with India, and its emerging bonhomie with Pakistan, may play a positive role for peace and stability in South Asia.
It needs emphasis that India-Russia political and strategic partnership is seamless throughout the decades since India got independence. Perhaps this seamless nature of the relationship makes the analysts and policy makers to take the partnership for granted. But as the Putin visit takes place, the political and strategic content of the relationship will find not only reiteration but also witness some significant agreements towards making the world, including Afghanistan and South Asia, a peaceful and stable place.
Dr Debidatta Aurobinda Mahapatra is an Indian commentator. His areas of interests include India-Russia relations, conflict and peace, and strategic aspects of Eurasian politics.
All rights reserved by Rossiyskaya Gazeta.