Pundits try to improve interactive education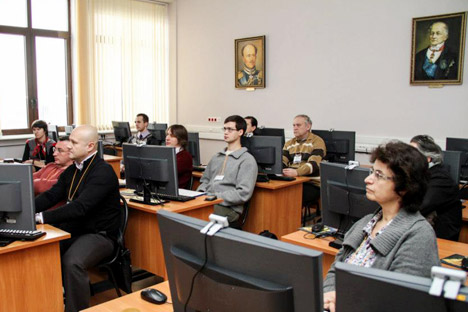 The Interactive Education, a scientific and practical conference, held in Moscow State University (MGU) in the middle of December. Source: Press Photo
Russian education experts come together at Moscow State University to discuss the development of interactive education in the country
Moscow State University (MGU) hosted a scientific and practical conference entitled "Interactive Education" in mid-December. It was the third time that education experts had gathered together inside the walls of MGU to share their experience in interactive forms of practical learning. The speakers at the conference included representatives of Facebook Russia, Google Russia, AFK Sistema, and JSC Russian Venture Company.
All the participants were united by a common idea: how to make the educational process effective and adaptable to the rapidly changing world. Such conferences are long overdue. The Russian Ministry of Education and teachers at all kinds of educational institutions are well aware of the shortcomings of existing education programs, many of which were created a decade or more ago and are now obsolete.
"Interactive education technology was initially conceived in this country by Soviet methodologist Georgi Schedrovitsky, consulting companies, and pedagogical innovators. All these techniques differ widely, and everywhere different methods are applied in relation to the student. When we sat down for the first roundtable meeting, it became clear that teaching practitioners had difficulty communicating with each other," said Dmitry Zemtsov, the conference organizer.
"A university professor accustomed to polite, genteel discussion in an academic style would face a business coach well-versed in shock tactics. More often than not, the professor would get up and walk out. I would have to go chasing after them," Zemtsov said.
Today, organizers of such events sense that participants now at least speak the same language. At the MGU conference, for example, experts dissected various ready-to-run interactive education technologies, explaining which of them deserved to live and which should be consigned to the scrapheap.
Some of the world's leading IT companies delivered presentations, including Google and Facebook. Given that students spend a lot of time online, these companies have far greater access to students than their teachers do.
Ksenia Karyakina presented Google's latest series of educational projects. They primarily revolve around Google Apps, which allows users to create documents, spreadsheets, presentations, etc. Another project, Google Art, offers virtual tours of 180 museums in more than 40 countries. Users can look at pictures and artifacts in minute detail, get information about all the items on display, and save their favorites in a personal virtual collection.
"All these resources help make the process of learning about culture and history interactive; plus, there's an opportunity to share information in real time with multiple users," said Karyakina. "YouTube (which belongs to Google) has everything you need to host video lectures and create channels, which makes it an excellent addition to the interactive learning process."
For the time being, Facebook is focused much less on educational programs, but it could still help teachers "reach out" to students. At the conference, Olesya Shayakhmetova of Facebook Russia presented just one project, which was entitled "Community." The scheme allows users to create themed groups in the social network and admit people that meet certain criteria, such as belonging to a group or studying at a particular school.
Interactive resources are not universally applied across Russia. Rather, they are only employed at educational institutions where the directors support their implementation and actively encourage teachers to adopt new technologies. The conference discussed different ways of introducing interactive technologies, though it turned out that there is no consensus on the meaning of the term "interactivity."
For example, Andrei Fedoseyev of the Institute of Informatics under the Russian Academy of Sciences believes that interactive systems should emphasize the pedagogical aspects of learning. An educational website or program should not simply feed information but analyze students' mistakes and offer additional study materials, so that the end result is a thorough grasp of the topic. Fedoseyev does not see that kind of interactivity in existing resources.
Nevertheless, the conference participants all agreed that new training standards require an overhaul of the education system itself. In particular, the new draft education law examines the learning process in accordance with international standards. This includes, for example, distance learning programs for students, which presupposes the introduction of new interactive methods. Their successful implementation depends directly on the frequency and content of conferences such as this one.
All rights reserved by Rossiyskaya Gazeta.