Greater thrust needed in Indo-Russian ties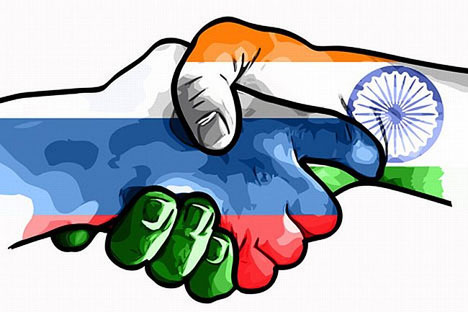 The psychological contents in the India-Russia relationship are not that strong despite pronouncements in agreements and declarations.
A lot has already been written on Russian President Vladimir Putin's visit to India early this week to participate in the 13th bilateral annual summit. Analysts have been largely optimistic in discussing the agreements signed during the visit though some of the writings are circumspect in giving full marks to the current status of partnership.
President Putin and Indian Prime Minister Manmohan Singh spared no words in extolling the virtues of friendship and in furthering the contents of strategic partnership in an evolving multi-polar world. The visit too witnessed signing of a slew agreements and MOUs in diverse areas including in the area of arms and armaments and the establishment of more nuclear energy plants in India, as both the countries geared their policy mechanisms to surpass long debated meager bilateral trade at slightly over $10 billion.
Instead of going into details of these agreements, the article focuses on the psychological content of partnership, and elaborates how the relations can be more substantial than the prevailing one.
The psychological contents in relationship are not that strong despite pronouncements in agreements and declarations. Russian discomfiture at India's handling of the Sistema imbroglio is an apt case in this context. There are instances when governments go forward to salvage friendly relations by undertaking special legislative or executive measures. Sistema Shyam Tele Services Limited lost its right to operate in India after the Indian Supreme Court cancelled its license along with other 121 telecom companies in February 2012 due to the corruption involving in the auction of the licenses.
It is like applying the logic of one apple making all apples rotten in cancelling the license of all companies. Russia Ambassador Alexander Kadakin regretted that a bonafide company has been "placed together with rogues and its license had been revoked," and hypothesised "what kind of reaction Indian policy makers would have" if an Indian company with credibility would have same fortune in Russia. He argued, "more than $3.2 billion in Russian investments is at stake here; the government has itself invested in the project through Rosimuschestvo. We cannot allow this money, public or private, to go down the drain."
Concrete Indian steps in salvaging the Sistema case could not have dented the Indian economy but rather helped strengthen the bilateral relationship and provided Russian leaders a strong alibi to offer similar concessions in areas such as energy. Now it is no surprise that the Russian government has linked the restoration of the license to Sistema with India's ONGC Videsh Limited being granted a 10 year tax holiday on its acquisition of Imperial Energy.
As the Sistema case is contentious and still simmering, India can take the lead and create an environment of genuine friendship by intervening in this issue to the advantage of both the countries. Time is still in favour of friendship and India can take an effective step in this context.
One also may not be jubilant while discussing people-to-people relations reflected in multiple areas of arts, drama and education. A student, particularly a medical student, completing study in Russia has to undergo a winding process of examinations in India before she can realise her potential and practice successfully. Why cannot there be an effective mechanism to expedite such a process so that the student does not lose precious time of her career in this cumbersome process? This clumsy process discourages many students to opt for Russia, and in long term affects bilateral relations. Why cannot there be a joint body, comprised of experts from India and Russia, to deliberate on these issues, and offer certain guidelines towards encouraging students to go to Russia for study with a bright career ahead?
In the old days, Moscow was a centre of education for students from third world countries including India, and some of the universities like Patrice Lumumba University (now Friendship University) played a crucial bridge in attracting youth from across the globe. If that period witnessed a zenith in cultural relations between the two countries, the present period appears lack luster from a relative prism. Roerichs and Kapoors appear to have long faded from public memory of both the countries. While the Roerich estate in Bangalore recently cropped up in news (not for any noble reason) due to an official's suggestion that a garbage dump be built there, the young generation in Russia hardly knows Raj Kapoor.
During his visit to India in 2010, then President of Russia, Dmitry Medvedev visited Mumbai and met Bollywood stars including the granddaughter of Raj Kapoor. These cultural ambassadors can play much needed bridge between the two countries. Both the countries need to invest in this cultural domain, not only to infuse trust and goodwill in the relationship but also to establish a strong base on which other areas such as economy can flourish.
The economic domain of the relationship is also not very encouraging. It is akin to a baby in an incubator. Most of the bilateral agreements on economic arena are mainly government to government, confined mostly to the areas of arms and armaments and currently nuclear energy, with least participation from private companies. It clearly brings forth lack of a conducive atmosphere in India and Russia to attract mega industrial houses to invest in both the countries. It is but the dismal scenario that the bilateral trade currently stands at slightly over $10 billion, much lesser than the bilateral trade of either of the countries with any major player in the world. The business environment needs to be built up by easing visa restrictions, providing tax concessions, security to business enterprises, and also ensuring a level playing field to these companies. The policy makers from the both countries must be proactive in this regard. It is good that there are positive outcomes in the areas such as diamond and pharmaceuticals, but these can not sufficient in the context of these two giant economies, two major poles in the evolving international politics.
It may also be comforting that both the countries coordinate their positions on various international issues such as Syria, Middle East, Afghanistan, extremism and terrorism, and are members of various crucial international bodies such as BRICS and G-20, but these may not be sufficient guarantor of a stable bilateral relationship unless the economic content of strategic partnership match the political content.
It also needs a lot of soul searching why the Putin visit was not covered widely by Indian media. What could have been the response of the media had the leader been from another country such as the US or the UK? The argument that the Delhi gang rape case overshadowed the visit does not hold much ground. Instead, the poor coverage of the visit reflects something unwholesome in the bilateral relations. Why could the Indian leadership not gear the media and policy making apparatus to give requisite focus to the visit? There are differences undoubtedly, but the differences are to be overcome in the summit meetings.
Can the Putin visit be termed a failure? Not exactly. But it reminds that such summit meetings, which take place once a year and consume lot of diplomatic energy and amount to significant churning of policy making mechanisms, can be better utilised in terms of sorting out differences and build further on the existing content. These opportunities need not to be fizzled out. There is no doubt that the visit witnessed many crucial agreements, along with joint resolve to continue the strategic partnership, but it is time to add some lasting flesh and bone to this skeleton of strategic partnership.
Dr Debidatta Aurobinda Mahapatra is an Indian commentator. His areas of interests include India-Russia relations, conflict and peace, and strategic aspects of Eurasian politics.
All rights reserved by Rossiyskaya Gazeta.