Happy returns for Russian players at Melbourne Park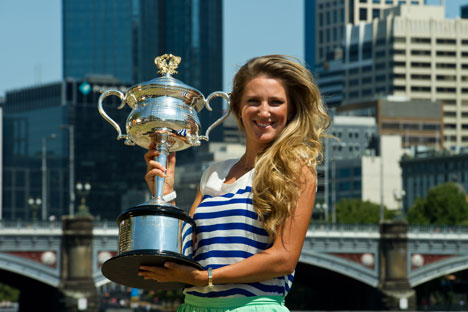 Maria Sharapova will face a tough crowd in Melbourne, including last year's champion, Viktoria 
Azarenka (pictured). Source: RIA Novosti.
In an interview with Russian news service RIA Novosti, Australian Open tournament director Craig Tiley discusses the latest developments at the season's first grand slam and why the Russians tend to do well at Melbourne Park.
RIA Novosti: What are your expectations for next month's tournament? What makes it unique?
Craig Tiley: We'll start 2013 with the first grand slam of the year. We've been able to take the Australian Open to 683,000 people who came through the gate last year and a global audience of more than 300 million. So the event is really growing. Part of this growth is the redevelopment of the site. We are adding another court with a retractable roof. Now we have three such venues.
Australian Open tournament director Craig Tiley. Source: Imago/Legionmedia
We've also built eight indoor courts, eight outdoor red clay courts and another five practice courts, so we have another 21 courts that we've built in partnership with the Victorian government. We've invested more than $363 million in the upgrade of the facilities and we're going to invest probably another half a billion [dollars] in the next few years and there will be even more development. We will have again the highest prizemoney in the world, $30 million. We think it is the best facility in the world because not many have three stadiums that you can close the roof on, we have clay on the site, we have indoors.
We expect the top 100 men and top 100 women, like we have every year.
RIAN: The question that concerns many tennis fans is whether Rafael Nadal will be able to recover in time to play at the Australian Open in 2013.
C.T.: We are fortunate that we start in January; players have some time off so that they are not injured. Like Rafa Nadal, whom I spoke to last week and he is going to be ready to play.
RIAN: Evgeny Kafelnikov, Marat Safin and Maria Sharapova have all won the tournament. Why do you think the Australian Open is the most 
successful grand slam tournament for the Russians?
C.T.: There is a strong Russian community living in Australia and they come and support the Russian players. I also think it's a good surface; it's a surface that Russians generally do well on. It's not a hard court, it's a softer surface. It suits Maria's game, it suited Marat's game. [Nikolay] Davydenko had some good runs here as well.
I also think it's the beginning of the year, the sun is shining and they are coming from cold winter. Historically, Maria always comes early; historically the Russian players always come early, too. We always believed that the earlier you get here, and we've got statistics to show, the more success you have at the Australian Open. You can't acclimatise in three days; you need a couple of weeks to acclimatise to the heat and the Australian summer.
And the Russian players generally have been here earlier than others. Last year, Maria was here two to three weeks before [the tournament] and she's going to be early this year, too, training. I think it's helpful.
RIAN: Who are the favourites in the women's draw?
C.T.: In the women's draw, I think Maria. I think she was probably playing the best tennis at the end of the year. [Viktoria] Azarenka is playing great tennis and she won here last year obviously and this was her first breakthrough.
RIAN: Australian No. 1 Sam Stosur has taken the United States Open title. Do you think she is capable of winning her home grand slam event?
C.T.: If the Russians had a grand slam in Russia, the Russian players would find it hard because the expectations are so great. You hear even in the coffee shops people talking about tennis [and] when you go shopping. I think for a local player to win the Australian Open is a lot harder than to win a grand slam tournament overseas. So when Sam is at the US Open, the pressure is different; French Open finals or semi-finals it's different. But here the pressure is greater. So I think it's harder, but she is capable of winning it.
You are going to play for two weeks, play seven great matches, and the players who play the most consistently win. Maria has done that, Serena has done that, and Sam did it at the US Open.
RIAN: Which final is your favorite in the history of the Australian Open?
C.T.: Nadal-Djokovic last year. I was sitting courtside for six hours. The ball was going so fast, and it was the drama. It was my favorite final.
RIAN: Why do you think Lleyton Hewitt could not achieve his best results at the Australian Open? Was it the surface or something else?
C.T.: He got to the final in 2005. I think the surface is actually good for Lleyton. He had some very difficult draws and he had been injured a couple of times. I think the surface now is better for him. The old surface used to change a lot in the weather conditions: if it was shade or sun, the speed would change a lot. Now it doesn't matter whether you're in shade or you have direct heat.
First published in RIA Novosti.
All rights reserved by Rossiyskaya Gazeta.