At least four killed in plane crash near Moscow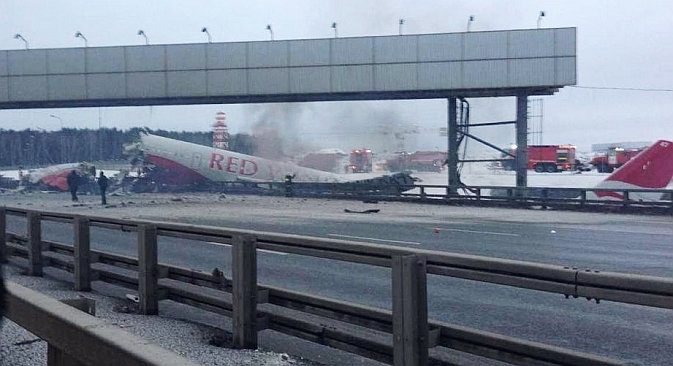 A Tupolev Tu-204 airliner manufactured by the Aviastar plant for Red Wings Airlines crashed in the Vnukovo airport. Source: RIA Novosti
A Tupolev TU-204 passenger jet of Russia's Red Wings Airlines carrying eight crew members overshot the runway of Vnukovo Airport, crashed through the airport fence catching fire and finished up splitting into three pieces as it rammed into Kievskoye Highway, in south-western Moscow.
A Tu-204 plane crashed on Saturday at Moscow's Vnukovo airport killing at least four people. The plane only carried the crew, according to early reports. The vehicle overshot the runway and broke through the airport wall, according to the Interior Ministry press center.
"The plane left Czech Republic at 4:35 p.m.," the press center told Interfax.
At least four person were killed in the crash. The plane was owned by the Red Wings company.
Of the survived people that were on board four are in grave condition, the Emergencies Ministry reported.
The police have encircled the accident site and "are actively assisting people in the evacuation."
The Tu-204 plane made the tough landing in the Kievskoye Highway, leading to the Moscow region. Part of it is fully closed to traffic. The traffic police recommend that drivers refrain from driving to the area.
Although the Kievskoye Highway has partially re-opened to traffic, the situation remains very tense, the Interior Ministry press center said.
Source: RIA Novosti
Saturday's air crash outside Moscow has been reported to Russian President Vladimir Putin, the presidential spokesman said.
Government agencies that are dealing with the aftermath of the crash and "are helping the passengers and crewmembers who have been injured are keeping the head of state informed on new details on a permanent basis," spokesman, Dmitry Peskov, told reporters.
Russian Prime Minister Dmitry Medvedev has ordered setting up a commission to investigate the crash.
"Medvedev heard reports from Deputy Prime Minister Arkady Dvorkovich, Emergency Situations Minister Vladimir Puchkov, and Transportation Minister Maxim Sokolov. At the behest of the premier, Sokolov is setting out for the site to oversee the work of the commission," Medvedev spokeswoman Natalya Timakova told reporters.
"Moreover, the premier instructed Health Minister Veronika Skvortsova to pull in all the necessary resources and help those injured," Timakova said. Vnukovo airport is closed to air traffic until 6:00 p.m., Yelena Krylova, the head of the airport press service, said in an interview with Rossiya 24 television. The airport infrastructure has not been damaged, except for the airport wall, she said.
The articles is based on materials from Interfax.
---
The information in this section is provided by the Interfax news agency and is intended for personal use only. It may not be reproduced or distributed in any form without express permission from Interfax. To request permission to republish, email: ifaxru@interfax.ru
All rights reserved by Rossiyskaya Gazeta.