Russia continues pragmatic stance on Syria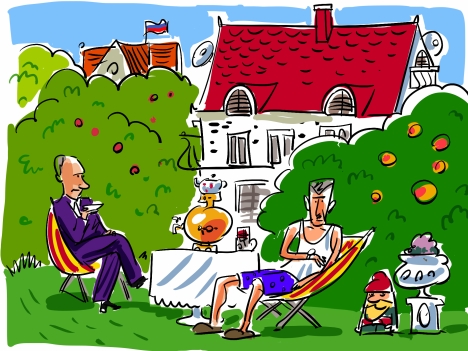 Although President Vladimir Putin says that his "position is not to back Assad and his regime in power at any price," few in the West are willing to believe him. Mark Galeotti, Professor of Global Affairs at New York University, tries to answer the question if the Russians are really desperate to keep Syrian leader Bashar al-Assad in power.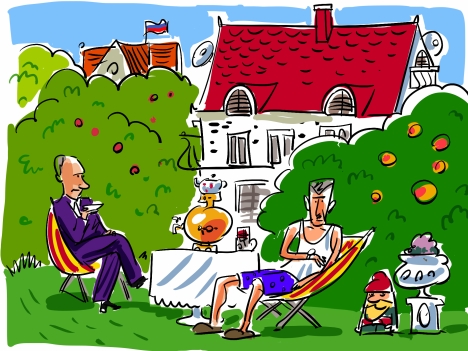 Drawing by Alexey Yorsh. Click to enlarge the image.
Are the Russians really desperate to keep Syrian leader Bashar al-Assad in power? President Vladimir Putin says that his "position is not to back Assad and his regime in power at any price." So why are so few in the West willing to believe him?
In December, Putin stated during his marathon press conference that after 40 years of rule by the Assad family, "the need of change is certainly on the agenda." Indeed, back in 2011, then-President Dmitry Medvedev warned that "a sad fate" awaited Assad unless he take steps to reform his government and pacify his people.
The Syrian-Russian relationship has historically been a close one. Damascus has bought Russian weapons and Russian companies Stroitransgaz and Tatneft are major players in Syria's energy industry. Trade between the two countries jumped 58 percent in 2011, before the present crisis.
But this has been an essentially pragmatic relationship. Russia's current position is equally pragmatic rather than, as so many in the West believe, somehow ideological, an axis of authoritarians.
Moscow is driven not by affection for the current regime so much as a fear of what may follow its fall. The experience of Afghanistan, Iraq and Libya suggest that it is far easier to break states than to build them. Afghanistan is now a teetering kleptocracy likely to be torn between Taliban and opium warlords once the West withdraws. Iraq is drifting towards authoritarianism and sectarianism. Libya is a mess that jihadists are seeking to exploit.
In that context, Moscow's concern is that a collapse of the current Syrian regime will lead to an extended period of anarchy from which the beneficiaries will be Islamic extremism, Iran and Turkey – three of the main challenges to Russian authority along its southwestern rim.
The Russian government denies that it believes Assad's days are numbered. When Deputy Foreign Minister Mikhail Bogdanov said he might be ousted, there was some hurried backtracking. In practice, though, it increasingly feels that the question becomes when and how the regime changes, not if.
What Russia hopes is that this change can be gradual and managed. In his recent talks with UN-Arab League envoy Lakhdar Brahimi, Foreign Minister Sergei Lavrov said that without "a stable political process," Syria faced "Somalization."
At present any such deal looks unrealistic, though. The Syrian opposition is not in the mood to compromise, something underlined by Syrian National Coalition leader Ahmed Moaz al-Khatib's refusal to come to Moscow for talks.
Meanwhile, despite pressure from Lavrov, Assad is unwilling to envisage any meaningful talks. After all it is inevitable that a precondition for any real negotiations would be his departure.
In that context, Moscow is playing what limited cards it has left in its hand.
It is sending naval forces to the area but not, as some suggest, as part of some bid to support Assad or deter the West. This flotilla contains just three warships: a missile cruiser that dates back to the 1980s, a 1960s vintage destroyer and a relatively modern but small frigate. War-fighters? The first two were designed to fight other ships and the third submarines – and the rebels have neither.
On the other hand, the force also contains five almost empty troopships with a small force of naval infantry. This is a flotilla meant not to fight but to evacuate the thousands of Russians in Syria (and maybe the Assad family) if needs must. After all, according to senior opposition figure Haitham al-Maleh, Russian citizens are now considered legitimate targets.
Meanwhile, Russia is politically preparing for the worst, rebuilding some burned bridges with Turkey and reading its concerns into the record. If Syria does descend into chaos and become a new cradle of jihad, at the very least Russia will have the meager consolation of being able to say that it told the West so.
But Russia's final service to some kind of resolution may yet be to help ease Assad out of Damascus. Lavrov has admitted that Assad has "repeatedly said, both publicly and in private... that he is not planning to leave." But while most dictators are prone to bloodthirsty and intransigent rhetoric, very few will truly fight to the death if presented with an escape route.
If Moscow's reluctance to demonize Assad means that ultimately it can induce him to flee and allow a successor to try and reach some deal with the opposition, then that will be a better contribution to change in Syria than any number of assault rifles smuggled into rebel hands. Maybe there is a cozy dacha in Barvikha outside Moscow even now being prepared for the Assads, just down the road from the Milosevics from Serbia and the Akayevs from Kyrgyzstan…
Mark Galeotti is Professor of Global Affairs at New York University. His blog, 'In Moscow's Shadows,' can be read here.
All rights reserved by Rossiyskaya Gazeta.