Russian government to ban fast food advertising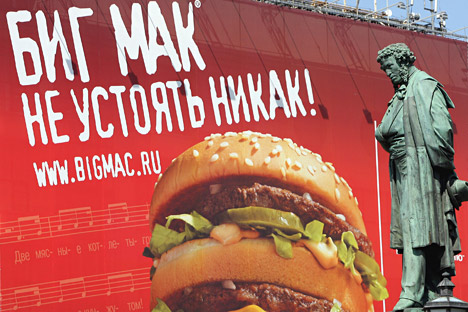 Russian Ministry of Health is going to impose restrictions on fast-food advertising. Source: PhotoXPress
The Russian government's new health program starves producers and vendors of high-calorie foods of advertising.
Under its health care development program to 2020, the Russian Ministry of Health intends to focus on increasing public awareness about healthy eating. In accordance with the document's stated aim of encouraging a nutritional and balanced diet, measures are to be introduced to restrict advertising for high-calorie foods.
As reported by the Ministry of Health, the proposals on healthy living, nutritional eating, and restricted advertising of products such as potato chips, fast food, and carbonated drinks are reflected in the government-backed national health care program. A detailed study of the planned areas and a set of interdepartmental regulations are to follow.
Excess bodyweight, obesity, high blood glucose and cholesterol, and high blood pressure are all due to be tackled. This is primarily to be done through cutting out saturated fat, salt, and carbohydrates, while increasing people's intake of fruits and healthy fats that are contained, for example, in fish.
According to the departmental program, obesity in children and young people under 25 is on the rise due to consumption of high-calorie foods (chocolate, chips, fast food, sugary drinks, etc.) and insufficient physical exercise. It is also noted that middle-aged Russian citizens often retain their adolescent dietary habits.
The document further states that a major role in the development of obesity – especially among middle-aged and older women – is played by the consumption of daytime snacks, which are not considered to be full meals. In addition to the introduction of advertising restrictions on carbonated drinks, chips, and fast food, the Ministry of Health intends to force producers of food and prepared meals to place nutritional information about calories, fat, carbohydrates, and salt on all packaging in easy-to-read lettering.
This year, the ministry expects to lay out the advertising restrictions in detail before the procedure is rubber-stamped. Now, however, consumer rights advocates say that fast food, chips, and soda advertisements aimed specifically at younger audiences should be banned.
"It would not be unprecedented. In Britain, for example, it is illegal to target fast food advertising at young audiences, but in Russia children spend their pocket money on soda and hot dogs, and a trip to a fast food restaurant is a kids' day out," said the chairman of the Consumers Union of Russia, Peter Shelisch.
He is supported by Olga Skorobogatova of the Consumer Rights Protection Society. She says that banners advertising sugary drinks, fast food, and chips should not be located near schools and kindergartens, and that TV commercials advertising such products should not be broadcast in between children's programs, films, and cartoons. Skorobogatova also believes that advertising such foods and beverages should not be targeted at minors, in general.
On the other hand, Vladimir Yevstafiev, an expert at the Association of Communication Agencies of Russia (ACAR), says that the ACAR will oppose any bans and restrictions on the advertising of sugary drinks, fast food, and chips.
"It's not even the fact that advertising agencies are set to lose out," Yevstafiev said. "TV stations, print media, radio, and outdoor sites will also lose revenue. Moreover, fast food chains and producers of sugary drinks are the main sponsors of many sports and entertainment events." In his view, the advertising restrictions could result in heavy losses, the exact amount of which is difficult to assess.
"Before slapping on restrictions, the Ministry of Health should determine whether it can compensate for the losses," the expert said.
First published in Russian in the Izvestia newspaper.
All rights reserved by Rossiyskaya Gazeta.