What changes can Russian society expect in 2013?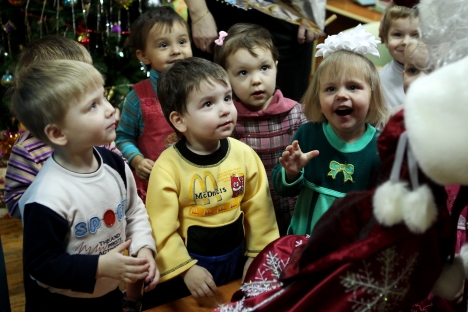 Russian orphans will stay in Russia. Source: RIA Novosti / Konstantin Chalabov
A ban on foreigners adopting Russian orphans, an anti-tobacco law, and restrictions on the sale of beer – these are some of the most important developments expected in 2013.
Orphans to stay in Russia
One of the most controversial laws of 2012, which bans the adoption of Russian orphans by American citizens, came into effect on New Year's Day. The law has become part of Russia's response to the U.S. Magnitsky Act, which bans a number of Russian officials from entering or owning property in the United States. The retaliatory Russian initiative, known as the Dima Yakovlev law, triggered a wave of protests among adoption experts and ordinary citizens alike.
A high-profile bill on smoking restrictions will come into effect in 2013. Among the provisions of the bill are a complete ban on smoking in public places starting in 2015, a ban on cigarette sales in street kiosks, and mandatory graphic images on cigarette packages warning of the health risks of smoking, to be introduced in May 2013.
More than 40 percent of the Russian population smokes, and, with these measures, the country is finally fulfilling its obligations under the World Health Organization Framework Convention on Tobacco Control, which it ratified in 2008.
Plan in advance to buy beer
Beer will no longer be available for sale at street kiosks, and it will only be available between 8 a.m. and 11 p.m. in retail stores.
Third time's the charm
Starting in 2013, Russian families will be paid between 5,000 ($160) and 11,000 ($360) rubles per month after the birth of a third child (and any additional children). The allowance will be paid until the child reaches the age of three.
Pay increases for public servants
Effective 2013, salaries of public sector workers should reach 100 percent of the average in their respective regions. This category includes schoolteachers, doctors, vocational college instructors and social workers. More than 14.4 million people work in the public sector in Russia, including 5.2 million in education and almost 4 million in healthcare and social services.
Workers in the Ministry of Emergency Situations, the Department of Corrections, drug enforcement agencies and the Tax Service should also expect substantial pay raises in 2013, with salaries set to match those of the police and the military – the latter received a pay raise a year ago.
Nationwide check-up
The practice of mass health screening is returning for the first time since the collapse of the Soviet Union. Examining the health of the entire population in 2013 will set the budget back by a total of 85 billion rubles ($2.8 billion). Russians will be required to have a physical every three years after the age of 21; veterans of World War II and full-time college students will receive annual check-ups.
Seven years for illegal immigration
Authorities will take a tougher stance on illegal immigration in 2013. Source: ITAR-TASS
Russia is expected to take a tougher stance on illegal immigration in 2013. The maximum prison term for entering the country illegally will be increased from two years to five years, with up to seven years possible if organized crime is involved. In addition, foreigners overstaying their visas will be banned from entering Russia for three years, and those with outstanding convictions for premeditated crimes in Russia will not be allowed to return to the country.
Luxury tax
In his December 2012 State of the Nation address to parliament, Vladimir Putin said that the idea of a luxury tax (including tax on premium real-estate and expensive cars) must be implemented in the first half of 2013.
Utilities hike
Utility bills will increase by 10 percent on average, effective July 1, 2013.
Dial 112 for an emergency
The single emergency phone number 112 is set to become operational in Moscow and the Greater Moscow Area in 2013. The 112 system will connect residents, around the clock, with fire departments, rescuers, the police, ambulances, gas emergency and the Anti-Terror agency.
The story is based on materials from RIA Novosti.
All rights reserved by Rossiyskaya Gazeta.