Court rejects Pussy Riot member's appeal to defer her sentence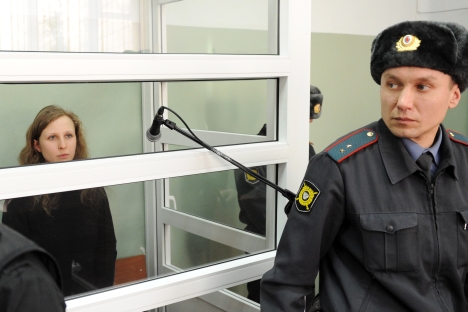 The court rejected an appeal of Pussy Riot member Maria Alyokhina to suspend her prison sentence. Source: RIA Novosti / Pavel Lisitsin
A Perm region court rejects an appeal by Maria Alyokhina, a jailed member of the Pussy Riot feminist punk group, to suspend her two years' sentence until her six-year-old son turns 14.
A court in the small town of Berezniki in the Perm region, where imprisoned Pussy Riot member Maria Alyokhina is serving a sentence of two years, on Wednesday rejected her motion to defer her sentence until 2020 so that she could take care of her son, RAPSI news agency reported.
Alyokhina filed a motion based on Article 82 of the Criminal Code, which states that in cases where female convicts have children under the age of 14, the court may opt to suspend the sentence until the child reaches the age of 14. Alyokhina's son, Filipp, is six.
"I'm sure my appeal will be rejected," Alyokhina said in her speech at the hearing, according to the Twitter feed of protest group Voina from the courtroom. "When the state turns its back on children at the top level, it's clear what decision a court in a small town will pass. But I wish a little miracle would happen and real people who care about children would turn out to be in this court."
Alyokhina and two other Pussy Riot members, Nadezhda Tolokonnikova and Yekaterina Samutsevich, were apprehended last spring after storming Moscow's biggest church, Christ the Savior Cathedral, to sing their protest song, "Holy Virgin, chase Putin away" in face-covering balaclavas ahead of March 4 presidential elections.
In August, the three young women were sentenced to two years each on hooliganism charges. Samutsevich was released in October on appeal, however, after a court adjudged she had played a lesser role in the protest.
Alyokhina was sent to a prison colony in the Perm region in early November. There she has received official reprimands for minor infringements of prison rules, such as sleeping through the wakeup call and not getting up at the scheduled time in the morning. She was then put in isolation due to her "complex relations with other inmates," RAPSI reported.
Tolokonnikova, who has a five-year-old daughter, Gera, has also filed an appeal to defer her sentence. Her claim is currently being considered by a court in Mordovia, where Tolokonnikova is serving her sentence.
Courts sometimes do rule in favor of freeing mothers of young children. Three years ago, Anna Shavenkova, 28, a United Russia activist and daughter of the head of the Irkutsk Region election commission, was sentenced to two and a half years in jail for running over two women in her car, one of whom died. The sentence was later suspended under Article 82 after Shavenkova gave birth to a baby shortly before the final court hearing.
All rights reserved by Rossiyskaya Gazeta.