Scientists prove that prehistoric porcupines once roamed the Urals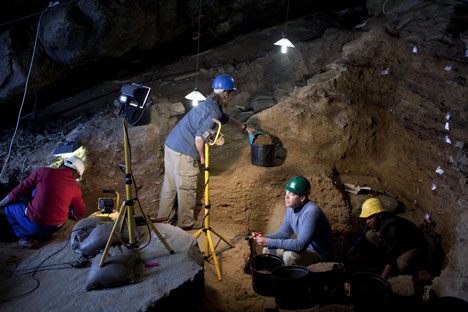 A tooth of an ancient orcupine has been found in Urals. Source: Getty Images / Photobank.
Researchers at the Institute of Plant and Animal Ecology of the Ural branch of the Russian Academy of Sciences have proved that the Urals used to be home to prehistoric porcupines.
Archaeologists found the tooth of a porcupine that inhabited the area some 120,000 years ago. The tooth was buried 8 feet beneath the surface in a cave near the town of Asha, on the border between the Sverdlovsk and Chelyabinsk regions.
On Jan. 15, head of the paleoecology lab at the Institute of Plant and Animal Ecology, Pavel Kosintsev, told ITAR-TASS that the discovery actually turns existing knowledge of prehistoric wildlife in the Urals on its head.
"Before this discovery, no scientist had been able to find any facts to prove that porcupines inhabited the Urals. It was presumed that, in prehistoric times, the animals lived much farther to the south of the Ural Mountains," Kosintsev said. "Our discovery, however, proves otherwise. The climate in the Urals over 100,000 years ago appears to have been much milder than scientists tend to describe it. There were broadleaved forests in the area, much like those around Kiev. In addition to wolves and bears, the woods were also home to porcupines."
The porcupine tooth and other discoveries brought up from the cave will help scientists reconstruct the prehistoric climate of the Ural Mountains with more precision. They will be able to better understand how the climate changed from millennium to millennium and what factors drove this change.
First published in Russian in ITAR-TASS.
All rights reserved by Rossiyskaya Gazeta.