Drug Trafficking: A rising menace in Eurasia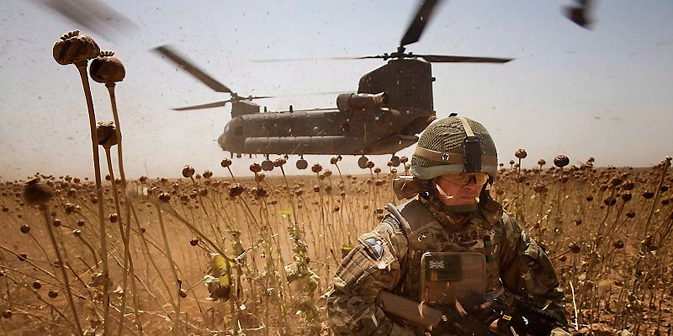 The situation in Afghanistan in coming months will bolster trade in illegal drugs. Source: Flickr/antsz1
Porous borders accompanied by instability and lack of effective law and order mechanisms have made some Central Asian countries major routes for the trafficking.
The head of Russia's Federal Drug Control Service, Viktor Ivanov revealed to the press on January 15 that the authorities seized 106 tonnes of illegal drugs in 2012. This amount was 70 percent higher than the previous year.
The drugs mainly originated from Afghanistan, the largest centre of poppy cultivation in the world. Poppy from Afghanistan traverses a long route of Central Asia, mainly through the old Silk Road, before reaching to Russia and European countries. Some other routes pass through Pakistan and Iran, before reaching to other parts of the world. Drug-trafficking is a menace, but its linkage with religious extremism, terrorism and human trafficking proves further dangerous not only for Afghanistan, but also the neighbours in Central Asia and other countries.
The neighbouring countries of Afghanistan in Central Asia are crucial supply routes of drug, besides the countries of Pakistan and Iran. Porous borders accompanied by instability and lack of effective law and order mechanisms have made some Central Asian countries major routes for the trafficking. Kyrgyzstan, particularly its southern part, is well known for being a conduit for the illegal drug. Osh city, called capital of the south, has recently acquired a new sobriquet, the drug capital. Usually drugs, mainly heroin, are transferred from Afghanistan to Tajikistan and then towards Osh. From Osh drugs are transported to north, mainly Bishkek, and then through Kazakhstan to Russia.
The United Nations Office on Drugs and Crime (UNODC) expressed serious concern about this menace of drug trafficking in Central Asia, and emphasised on effectiveness of drug-control agencies and cross-border cooperation between Kyrgyzstan, Tajikistan, and Uzbekistan to check illegal trade. Last year it announced its decision to grant $3.5 million to the Kyrgyzstan, one of the major routes for the trafficking, to fight the menace. Rising poverty in these countries is one of the factors behind this burgeoning illegal drug trade and human trafficking.
As pointed out by Ruslan Altybaiev, a higher official in Kyrgyz Drug Control Agency, besides the geographic location of the country along the northern drug-trafficking route, poverty pushed many Central Asians to involve in this trade. The Fergana valley in Central Asia, once known for its rich culture and heritage has emerged not only as a site of ethnic violence, but also for drug and human trafficking.
The likely deterioration of the situation in Afghanistan in coming months will bolster trade in illegal drugs. The war-torn country currently accounts for about 90 percent of poppy cultivation in the world. The UNODC estimates that the acreage of poppy cultivation in Afghanistan has grown in recent years. From the year 2011 to the year 2012, the area of cultivation increased by 17 percent. While the total area of poppy cultivation was 131,000 hectares in 2011, it increased to 153,000 hectares in 2012. Despite debates about checkmating the poppy production by various means including spraying chemicals on the fields to spoil the crop, nothing concrete has come out so far. There is a concern in some quarters that any control of this trade, a source of livelihood for many Afghan people, through such means without a broader acceptance among the people (to end the illegal trade), will lead to further chaos in Afghanistan.
It will be interesting to see how the departure of the US forces will impact the drug trafficking. Most likely, as the situation will continue to deteriorate, drug trafficking problem will fester. Despite the presence of International Security Assistance forces in the country for more than a decade, poppy cultivation has grown in Afghanistan. Russia is concerned about the prospects of further proliferation of this trade. Russian President Vladimir Putin observed last August, "It is regrettable that many participants in this operation (in Afghanistan) are thinking about how to pull out of there … They took up this burden and should carry it to the end."
The menace of drug trafficking is not only related to issues of law and order, its impact on society in terms of health is equally horrendous. As the Executive Director of UNODC, Yury Fedotov pointed out the recent years have witnessed the spread of HIV/AIDS among drug users. Further, the linkages between drug-trafficking, human trafficking and terrorism, increasingly evident in the past decade, have caused grave concern among the secular and democratic countries. One of the major sources of income for the Taliban in Afghanistan is illegal poppy trade. Taliban has major influence in the south of the country, also a major cultivating field for poppy; hence it becomes easier for it to harness this illegal trade to its advantage. Besides the Taliban, major terrorist organizations like Al Qaeda and Haqqani network too are involved in this trade. One of the notorious mafia dons, Dawood Ibrahim, an estranged Indian citizen, too has stakes in this illegal trade in Afghanistan. It is common knowledge that Dawood diverted money generated from this trade in Afghanistan to fund terrorist attack in Mumbai in 2008.
Unless coordinated efforts are made by the regional and international players involved in the peace process in Afghanistan, the menace will assume larger proportions in coming months. The trilateral cooperation between Afghanistan, Pakistan and Iran, supported by the UNODC, is a significant step in this direction. While praising this trilateral effort in its 6th ministerial meeting in Tehran last month, Fedotov emphasised on increasing joint patrols and operations, based on the real-time exchange of information and intelligence, among the countries in the region to fight drug trafficking. In this venture, Russia and Central Asian countries can play an effective role.
All rights reserved by Rossiyskaya Gazeta.