'I will love to work with Big B'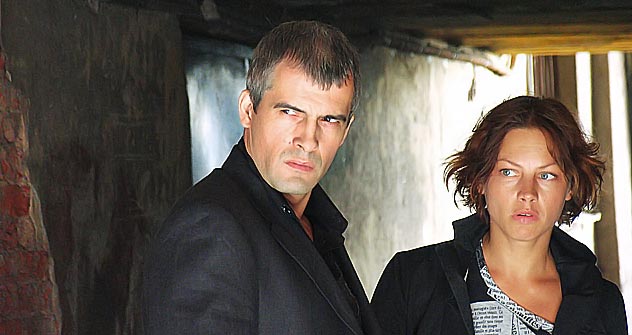 Vyacheslav Razbegaev and Alena Babenko in a movie titled 'Zhest'. Source: Itar Tass
Once a shy boy, Vyacheslav Razbegaev is now one of Russia's highest-paid actors. Popularly known as Slava, he is upbeat about Players, an Indo-Russian film venture.

How are you finding India? Will you visit again?

It has been great. I'm glad I came at this time of the year; monsoon is my favourite season. It's really beautiful and the weather is lovely. I find the food a bit too spicy for my taste, but I want to come back anyway. I'd love to come and visit again and enjoy the culture, which we hear so much about back home.

What was it like to shoot for a Bollywood movie as opposed to doing movies for the Russian industry?

It hasn't been very different. If anything, it's actually easier. With the way everything is so perfectly planned and organised here, the entire process is less complicated than usual. Of course, there is no denying the language barrier, but everyone around is so co-operative and hospitable, that everything just becomes easier and comfortable.

Did you have much difficulty with dancing?

I like to believe dancing is difficult and yes, I did find it a little tiresome. But I found a beautiful partner in Bipasha (Basu). It is almost impossible to go wrong with her. I wasn't technically perfect but emotionally, she inspired me.

How is Bollywood perceived in Russia and by the Russian film fraternity?

We have great respect for the Hindi film industry. A huge number of movies are made every year and so many of them are simply great. Not to forget there are so many aspects to Bollywood movies – the music, atmosphere and actors. I personally find Bollywood extremely charming. There is no other film industry, which incorporates so much music and dancing in their films, and is still so vibrant.

Do you intend to act in more Bollywood films?

If an opportunity comes by, I won't let it pass. I would love to work with Amitabh Bachchan. I have watched most of his movies and I admire his artistry. I believe it would be a great experience and it is definitely one I hope to have in the future.

Raj Kapoor has a great fan following in Russia. Did you watch his movies while growing up?

I watched almost all his films growing up. He is brilliant, and I'm a big fan of his work.

Which Hindi movie is your favourite?

My favourite Hindi movie is Sholay and incidentally, I had the chance to work with the children of two of the stars from the movie (Abhishek Bachchan and Bobby Deol).

Do you believe that working in this movie is your way of building stronger ties between the two countries?

I would like to believe that it is. Last year, when the Russian president visited India, he also visited a Bollywood studio and invited t h em to shoot in Russia. My participation in this movie is a direct result of his visit. I am very glad that it happened and at some small level, I believe this is an Indo-Russian film. This is a small step towards building a cultural bond between the two countries. I look forward to visiting one day a Russian cultural centre in Mumbai, where the citizens can learn the language and more about the culture to be better connected with Russia.

As an actor, what is your dream project?

My dream project would be to act in a children's movie. If I do get the chance to be a part of such a movie, I would seize it. My dream is to entertain children; and I intend to fulfill this dream by starring in a fairytale someday.
BIOGRAPHY

A gifted actor
Born on October, 14, 1965 in Moscow, Vyacheslav Razbegaev studied in a boarding school, where he learned Urdu. He served in the Russian Army in the Far East region of Russia. His parents wanted him to be an engineer, but his heart was in acting. After returning from the Army, he started to work at the art department in Mosfilm studio. He trained at the famous Moscow Actors' School MHAT and after graduating in 1992 worked in Red Army Theatre, Moscow, for 14 years. One of the actors who participated in 'Oresteia' by Peter Stein, he has been working at Independent Theatrical Project since 2006. A gifted actor, he has won millions of hearts playing different roles in more than 50 movies from 1991-2011. One of Russia's highest paid actors, he plays the role of an Army General in'Players,' an Indo-Russian film directed by Abbas and Mustan Burmawalla which is releasing later this year. The film, shot in Murmansk and St Petersburg, boasts an impressive Indian starcast that includes Abhishek Bachchan, Bipasha Basu and Bobby Deol. Razbegeav is looking forward to his debut in Bollywood and is keen to learn Hindi.


All rights reserved by Rossiyskaya Gazeta.