Hello Kids: Welcome to Moscow thrills and frills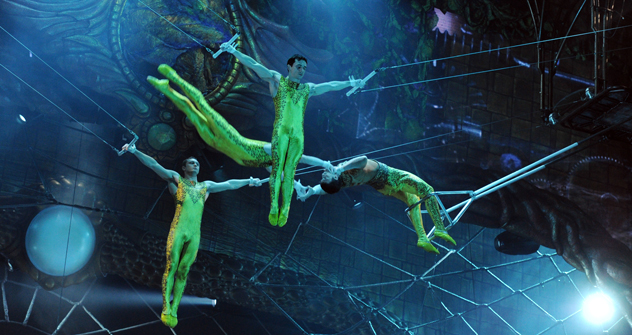 Canadian Cirque du Soleil artists rehearsing a show at the State Kremlin. Source: Ria Novosti
A feast of delights awaits young visitors to Moscow. Quirky museums, dancing poodles and aerial gymnasts will ensure they have a fantastic time.
A city of towering skyscrapers and gridlocked traffic, Moscow may not sound like a children's dream holiday destination. But there is plenty in this throbbing metropolis to amuse kids as well. "Now, there are many more play-rooms, child-friendly museums, hands-on galleries. It's great! And the Moscow circus scene is world-renowned," gushes Harriet Kalinin, founder of the bilingual website, "Children in Moscow".
Arden Dressner Levy, a 13-year-old from New York, who lived and studied in Moscow for four years, lists the circus among her top Moscow attractions, along with "the ballet, ice skating in Gorky Park and cross country skiing, blinis (pancakes) and hot chocolate."
Clowns and crocodiles
Moscow's oldest circus is on Tsvetnoi Boulevard, just twenty minutes' walk north of the Kremlin. Albert Salomonsky, a bareback rider-turned- businessman, built it in 1880 and framed his first ever rouble of profit on the wall of the box office for luck. His catchphrase was "clowns are good; ticket sales are good". The circus operated throughout World War II.
Clown Yuri Nikulin joined it immediately afterwards and worked there for fifty years. Since Yuri's death in 1997, his son Maxim has run the show, now known as the "Nikulin Circus". The latest show promises bears, monkeys, dancing poodles and aerial gymnasts, the "White Birds". Last year's spectacle included snakes and crocodiles, horse-back dancers and acrobats, along with the clowns.
Check out lava lamps, energy balls...
The All-Russia Exhibition Centre, known as vdnKh, is just the place for your kids. Built for a 1930s agricultural show, it is full of golden fountains and ornate pavilions. The surviving architectural wonderland has its own circus, fairgrounds and seasonal ice rink. It is also the home of the Cosmonautics and Ice age museums, the monorail, a butterfly house, and kiosks full of lava lamps and energy balls. Check out the site for more details on this fantasy land for children.
The newer "Bolshoi (great) Circus", near the Moscow State University, also continues to be a big hit, with its blend of animal acts and human skill. The 1971 building, the largest permanent circus in the world, is high enough to accommodate flying trapezes and wide enough to host parading elephants. Dressner Levy says her favorite show is "when they fill the pool at the Bolshoi Moskovsky circus and do water ballet". Below the 36-metre-high big top are subterranean levels plunging half as deep again, containing six interchangeable arenas, suitable for horse-riding, optical illusions, ice skating, lighting spectacles and aquatic shows with marine animals.
Puppets and museums
Moscow has a host of animal theatres, including one where all the performers are cats, or the Durov Animal Theatre, with its "mouse railway", founded in 1912 by clown and animal trainer Vladimir Durov. The city is bristling with entertainment designed to bright en the long Moscow winters. The puppet shows at the Obratsov theatre are famous for their elaborate costumes and the Bolshoi Ballet's annual "nutcracker" sells out every Christmas.
"The Adventures of Red Riding Hood", the Mayakovsky theatre's lively composite fairy tale, is all in Russian, but from the minute Red Riding Hood enters with her roller blades and mobile phone, you know it's going to be fun. Older kids might check out the rollicking version of "Jesus Christ Superstar" at the Mossoviet theatre.
Children with particular passions, like dinosaurs or space, will find world-class, relevant museums in Moscow. The Central Museum of the Armed Forces allows kids to climb all over the tanks and rocket launchers in the garden. Some of the more impressive parts of the Moscow's biggest attractions, like the Egyptian Gallery in the Pushkin Arts' Museum or the coaches in the Kremlin's armory can appeal to kids too.
Gorky Park and Kva Kva
Just over a year ago, oligarch Roman Abramovich bought up the dilapidated funfairs of Moscow's Gorky Park and transformed them into a utopian expanse of bean bags and juice bars, deck chairs, outdoor art and yoga classes. The whole park now has free entry and wifi. This summer, it has become a really great place for riverside relaxation, as well as the new venue for the "Garage Centre for Contemporary Culture", run by Abramovich's girlfriend, Dasha Zhukhova.
All rights reserved by Rossiyskaya Gazeta.