Read and understand Russia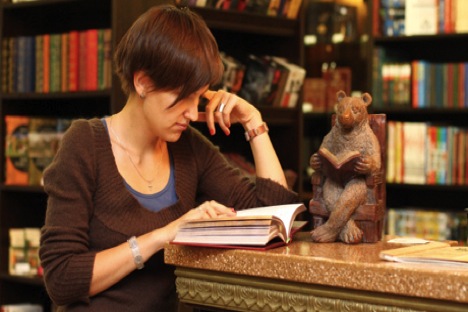 "Literature is one of the main capitals of Russia and one of the main investments in the world culture." Source: RIA Novosti
The "Read Russia" Prize has been awarded for the first time in Moscow. This is the only Russian prize awarded for the best translation from Russian into a foreign language.
The prize awarding ceremony was held in the end of the second International Congress of Translators that gathered over 200 participants from 32 countries. Translators from 9 countries contested for the "Read Russia" Prize. There were four winners. Spain's Victor Gallego Ballesteros won the prize for the translation of Anna Karenina by Lev Tolstoy in the category of classical and 19th century prose. "The translation of Anna Karenina was the best but the most exhausting period in my life," Ballesteros said.
John Elsworth, Britain, was the second prize winner. He was awarded the prize in the category of 20th century prose for the translation of "Peterburg" by Andrei Belov. John Elsworth considered it as prize for his two jubilees.
"This is a significant event personally for me, because I have recently celebrated the 50th anniversary of my first visit to the former Soviet Union to undertake an internship at Moscow State University. Moreover, Andrei Belov started writing his novel almost 100 years ago," John Elsworth said.
The winner in the category of modern prose was Helene Henry-Safier from France who translated Pasternak by Dmitry Bykov. In this case, she was assisted by the son of the famous poet, Evgeny Pasternak who passed away some time ago. The announcement of the winner of the category of modern poetry drew a heavy applause. Italian Alessandro Nero won the prize. He excellently translated poems by the famous conceptualist Dmitry Prigov in Moscow. Getting the prize, he admitted that this was a challenge in the one hand, and a pure satisfaction on the other.
The prizes were also awarded to the publishers of the translations."At present, close work with publishers is crucial," literature critic Dmitry Bak said. "There is nothing new that literature is one of the main capitals of Russia and one of the main investments in the world culture. Consequently, understanding Russia through literature is the direct, adequate and concise path," he added.
All rights reserved by Rossiyskaya Gazeta.