Time for Moscow to pursue Bollywood diplomacy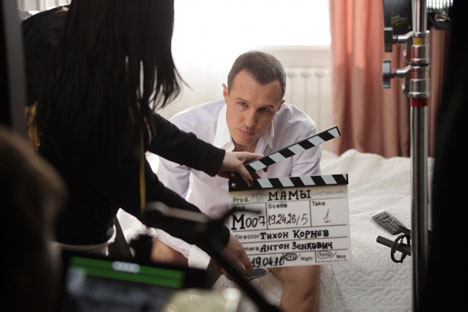 Time for Moscow to pursue Bollywood diplomacy. Source: kinopoisk.ru
Russia has been largely untouched and unaffected by the Bollywood storm thus far even though several movies like 'No Smoking,' and 'Lucky: No Time for Love' have been shot in the country.
Of the ten bilateral documents signed between India and Russia during Russian President Vladimir Putin's visit to India last month, one pertains to a cultural exchange programme. The document envisages enhancing bilateral cultural contacts through films and other cultural tools. But this is not enough as Russia needs to engage with the thriving Indian films industry much more pro-actively.
One of the main reasons why the Indo-Russian bilateral trade, currently pegged at $10 billion, is much below potential despite traditionally close relations between the two countries is that the private sector in both countries has not shown much interest. The Indo-Russian trade is propped up mainly by the two governments, with precious little done to foster people-to-people contacts. This can change quickly if Russia woos Bollywood, a multi-billion dollar rapidly growing industry which churns out over one thousand Hindi films and is growing at a rate of over 12 percent per annum.
It is a universally acknowledged fact that Bollywood has emerged as India's greatest brand ambassador all over the globe and Brand Bollywood is now giving serious competition to even Brand Taj Mahal. However, Russia has been largely untouched and unaffected by the Bollywood storm thus far even though several movies like "No Smoking," "Parwana," and "Lucky: No Time for Love" have been shot in the country.
In December 2011 when Indian Prime Minister Manmohan Singh visited Moscow, the Presidential orchestra regaled him and his wife Gursharan Kaur at a luncheon banquet hosted by then-President Dmitry Medvedev at the Kremlin. The Singhs were entertained by two hit numbers from Raj Kapoor-starrer films "Awara Hoon" from the iconic film "Awaara" (1951) and "Jeena yahan marna yahaan" from Mera Naam Joker, a 1970 film that had in its cast Russian actress Kseniya Ryabinkina. The Singhs were so overwhelmed by the performance that they walked up to the orchestra and complimented them.
Bollywood's Popularity in Russia and CIS Countries
Bollywood films have evoked lot of interest in the former Soviet Union over the decades. However, Russia has failed to milk the money-churning potential of Bollywood films which have been dubbed into Russian and shown in prominent theatres.
Ashok Sharma, Indian Ambassador to Suriname, who has served three times in the Commonwealth of Independent States region during his diplomatic career, has gone on record as remarking thus: "The popularity of Bollywood in the CIS dates back to the Soviet days when the films from Hollywood and other Western countries were banned in the Soviet Union. As there was no means of other cheap entertainment, the films from Bollywood provided the Soviets a cheap source of entertainment as they were supposed to be non-controversial and non-political. In addition, the Soviet Union was recovering from the onslaught of the Second World War. The films from India, which were also recovering from the disaster of partition and the struggle for freedom from colonial rule, were found to be a good source of providing hope with entertainment to the struggling masses. The aspirations and needs of the people of both countries matched to a great extent. These films were dubbed in Russian and shown in theatres throughout the Soviet Union. The films from Bollywood also strengthened family values, which was a big factor for their popularity with the government authorities in the Soviet Union."
The Soviet Union's disintegration triggered the collapse of the Soviet film distribution system which proved to be very bad for Bollywood. Hollywood quickly moved in and occupied the void created in the Russian film market, thus knocking out Bollywood.
What Russia Needs to Do
Russia needs to target Bollywood in a big way. It should set up an institutionalised mechanism for keeping in touch with the representative bodies of the Hindi film industry and assign the oversight job to an experienced diplomat.
The Russians should offer attractive incentives to Hindi film producers and give single-window clearance so that Bollywood producers feel encouraged to shoot their films in Russia. Apart from generating revenue for Russia and employment opportunities for the locals, this would be a very effective tool for making the people-to-people contacts vibrant. Russia has plenty of beautiful locations which are cheaper than favourite Bollywood destinations like Switzerland.
More and more countries are now wooing Bollywood. At least eight countries have signed agreements with the Indian government for boosting ties in the lucrative film making sector. South Korea and China are waking up to this reality and the Russians would be missing the Bollywood bus if they were not to move in quickly.
Russia has an advantage over other foreign countries because of very close Indo-Russian ties for more than six decades. Raj Kapoor's "Awaara" had proved to be a milestone in promoting India in Russia. Now that Bollywood's financial muscle has grown fatter, Bollywood will prove to be an effective people-to-people contact mechanism that will pay for itself.
The writer is a New Delhi-based journalist-author and strategic analyst.
All rights reserved by Rossiyskaya Gazeta.