Traditional Russian footwear showcased in Moscow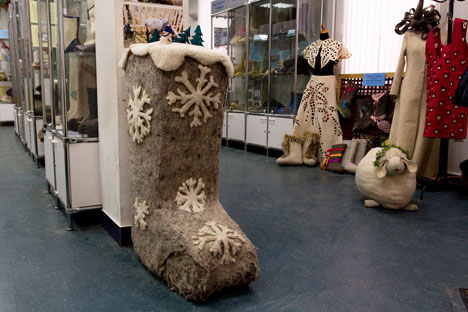 At the Russian Valenki Museum in Moscow, visitors may acquaint themselves not only with the history and technology of making valenki, but also with the fruits of designers' imaginations in this regard. Source: Vadim Kantor.
Felt boots dating back to the 19th century are on display at a small museum in the center of the city.
In Russian, the word "valenki" (felt boots) is derived from another word that describes the means of making the footwear: valenki were first made from sheep's wool that had been compressed by hand until it turned into felt. To make the wool thick and dense, you had to roll it ("valyat" in Russian) with a rolling pin.
Valenki are made by hand: first the combed wool is spread out in layers on top of the pattern — it looks like a sock. Then the sock is dipped into a vat of hot water, causing the wool to become more compact. The boot-maker rolls each "valenok" (a single felt boot) by hand until he has a perfectly seamless boot. Then he stuffs a wooden shoe tree in each valenok, in order to give it its final shape and size.
At the Russian Valenki Museum in Moscow, visitors may acquaint themselves not only with the history and technology of making valenki, but also with the fruits of designers' imaginations in this regard. These warm winter boots, a Russian tradition, are gaining new popularity.
Editor - Stakheev Vladimir, photos - Vadim Kantor, traditional Russian folk song - "Valenki"
Wool combing machine
Late 18th-century England saw the invention of the wool combing machine: scraps of wool cut from sheep could be loaded into one side of the machine, and out the other said would come woolen cloth. By means of the tiny nails with which the spindles of the machine were studded, the wool was separated into fibers, and the fibers stuck to each other. Later, these machines appeared in Russia. The museum exhibition includes a wool combing machine made in Russia in the 19th century. The spindles of the machine were set in motion by hand, by turning a handle.
Valenki with skates
Skating has long been a winter pastime in Russia. Before the appearance of special boots for skating, blades were attached to ordinary boots (even valenki) with the help of strings and little sticks. Today, that trick is remembered only by old-timers who also recall the old-fashioned skates called "snegurochki" (valenki on skates). A pair of snegurochki was given to the museum by a woman from the village of Unechi in the Bryansk region.
Felt boots with leather soles
This is yet another form of winter footwear. These boots, called "burki," were sewn from white felt and leather. Burki cost much more than valenki, and, in the 1920s-1950s, they were a distinguishing feature of the top Party leadership, senior government officials and generals. Later, burki became a more widespread phenomenon, but they continued to underscore the high status of the wearer. Today these sewn boots are made-to-order.
Slippers
Boots made of felt were not only sewn in Russia, and boots were not the only things to be made of felt, as well. "Chuvyaki" slippers have long been made in Dagestan: a felt top was sewn to a thick felt sole and decorated with leather trim.
Galoshes are not a Russian invention, but they nevertheless became enormously popular here because of all the mud and slush on the streets (especially in spring and fall). In winter, galoshes were worn over valenki, but there were also galoshes for more elegant footwear: for example, spectators could go to the theatre in high heels and leave their galoshes in the cloakroom.
Goodbye youth
It is hard to say where felt boots with glued-on rubber soles got their strange name in Russian: "proshchai molodost" ("goodbye youth"). The more common version of these boots had a zipper instead of a metal clasp.
Marshal Zhukov's valenki
Evidently, elegant burki were not worn in the winter by all of the Communist Party officers. A pair of valenki belonged to Marshal Georgiy Zhukov: they had thick felt soles and leather patches in the vicinity of the heel.
Holiday valenki
These embroidered valenki are more than 100 years old. They were not worn every day, only on feast days. Only well-to-do peasants could afford to own special footwear for special occasions; these valenki were passed down from one generation to the next. They were made in the Kazan province, which, from the mid-19th century on, was home to one of the largest valenki manufacturers in Russia — the Brothers Komarov.
Valeshi
Here you have a contemporary twist on boots made from natural felt. The word "valeshi" means "sewn valenki." Unlike the seamless valenki, valeshi are sewn from the thickest felt. Some are made to be worn around the house; others are made for the outdoors and feature a glued-on rubber sole.
Valenki as art objects
Valenki are not only a kind of footwear: they can also be appealing objects used for the purposes of exercising one's creativity and imagination. Valenki may be covered with drawings, or appliqués; they may be embroidered. Indeed, one may even turn valenki into stylish clocks to decorate any interior.
Russian Valenki Museum: 2-oi Kozhevnichesky per., 12 (Metro Paveletskaya). Open: Tuesday, Wednesday, Friday, and Saturday 11:00 a.m.–5.30 p.m.
First published in Russian in Moskovskie Novosti.
All rights reserved by Rossiyskaya Gazeta.